Charlie Kirk Hammered With Hard Questions At Wild Ohio U 'Culture War' Event
Chris Menahan
InformationLiberation
Oct. 30, 2019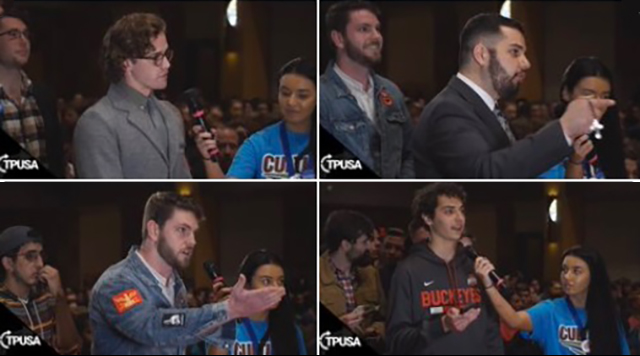 Turning Point USA founder Charlie Kirk forcefully defended his support for green card giveaways, drag queens and Israel while facing off with young culture warriors during a wild Q&A at his "Culture Wars" event Tuesday night at the University of Ohio.

Kirk was joined by gay Army vet Rob Smith, a former Democrat who "came out" as a conservative Republican on Fox News in July 2018 and joined with TPUSA in March 2019.

WATCH:


[Embed and Q&A starts at 43:25.]

Here's some highlights shared on Twitter:






Turning Point's Rob Smith responded to the event by smearing all his and Kirk's questioners as "white supremacist racists."



Just before the event, Smith was bashing conservatives for being "boring" and "behind the times" for disliking this photo of The Daily Wire's Michael Knowles posing with drag queen "Lady Maga."


Kirk was similarly pictured with "Lady Maga" at Politicon earlier this week:


TPUSA chief creative officer Benny Johnson, who rushed to smear the students of Covington Catholic high school as "despicable" and suggested they were filled with "hate," also rushed to smear these young men as racist:


Nick Fuentes pushed back against TPUSA's attacks on Twitter:



Regardless of where one stands on these issues, many of the topics raised by these questioners are debates conservatives need to have to determine the future of the right in America.

At the top of Drudge on Tuesday was an article from Axios saying Republicans fear they're going to face a "total wipeout" in 2020.


Charlie Kirk's brand of "Neocon 2.0 Donor First Nationalism" which Trump has foolishly signed on to is not selling. Smearing everyone who doesn't like it as "white supremacist racists" is not going to make these issues go away.

UPDATE:


Follow InformationLiberation on Twitter, Facebook, Gab and Minds.