Report: Chinese Govt Cancels Release of Tarantino Film Over Negative Portrayal Of Bruce Lee
Chris Menahan
InformationLiberation
Oct. 18, 2019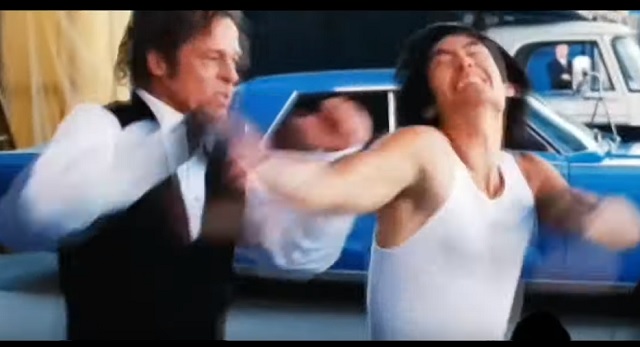 If Quentin Tarantino disagrees with this decision he should found his own country.

From The Hollywood Reporter, "China Cancels Release of Tarantino's 'Once Upon a Time in Hollywood' ":

Sources tell The Hollywood Reporter that Bruce Lee's daughter made a direct appeal to China's National Film Administration for changes to her father's controversial portrayal in the film. Now, the movie's China backer Bona Film Group is said to be frantically working with Tarantino on a new cut to salvage the release.

In a shocking twist not unlike the ending of a Quentin Tarantino film or two, Once Upon a Time in Hollywood's China box office ambitions appear to be going up in flames.
[...] The film would have been Tarantino's first proper release in China, and the country's enormous market was expected to help push the title's worldwide box office total past the $400 million mark (it has earned $366 million to date). The abrupt change-up comes as a blow to both Sony Pictures and the film's Chinese financier, Beijing-based Bona Film Group.

[...] As is typical in China, no official explanation for the cancellation has been offered by Beijing regulators. Bona didn't reply to text messages and emails, and Sony's China office could not immediately be reached.
Sounds just like Big Tech in America!
But the story swirling through the executive ranks of China's film industry Friday was that the decision stemmed from Tarantino's somewhat controversial portrayal of martial arts hero Bruce Lee, the only character of Chinese descent in the movie. Friends and family of the late Lee have blasted the director for the depiction, saying the real-life action star didn't behave as he's portrayed in the film.

According to sources close to Bona and China's Film Bureau, Bruce Lee's daughter, Shannon Lee, made a direct appeal to China's National Film Administration, asking that it demand changes to her father's portrayal.

Played by Mike Moh, the Lee in Sony's Once Upon a Time in Hollywood is wildly cocky and claims he could have "crippled" Muhammad Ali in a fight (referred to as Cassius Clay). Pitt's character, a stuntman and former war hero named Cliff Booth, laughs in Lee's face over the comment and then the two get into a "friendly" contest of who can knock the other down three times without hitting the face. The scuffle ends before either side wins, but Pitt appears to have an edge near the end, after throwing Lee into the side of a classic car.
China is a private country and they have every right to censor any film they see fit, right leftoids?

Or does that logic only apply to Big Tech oligarchs crushing little people in America?

Follow InformationLiberation on Twitter, Facebook, Gab and Minds.