Trump Reveals ABC News Aired Fake 'Turkish Bombing' Video FIVE Times
Chris Menahan
InformationLiberation
Oct. 16, 2019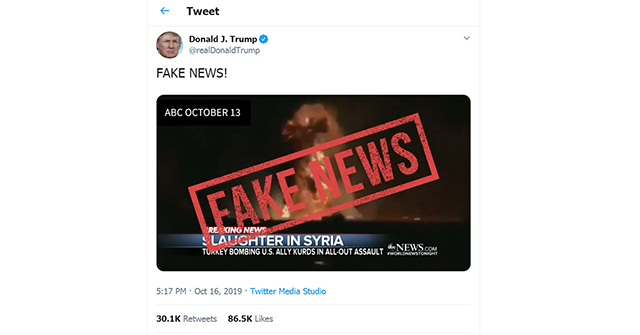 President Trump shared video Wednesday evening on Twitter showing ABC News aired footage from a Kentucky gun range that they falsely claimed was "Turkey's military bombing Kurd civilians" after being "abandon[ed]" by Trump five separate times.


Note how the crowd was darkened and cropped out of the frame so they couldn't be seen.

Despite ABC News airing the fake video five separate times and deceiving potentially millions of viewers, as of Wednesday morning they failed to issue a single on-air correction to their false reports.

Trump took ABC News reporter Jonathan Karl to task during a press conference Wednesday for his network's phony reporting and said they should issue an apology:


Trump also called attention to their false reporting on Monday:


It's truly remarkable how ABC thinks they can just act like this whole stunt never even happened while the President of the United States is actively hammering them over it!

It really goes to show they view their own viewers as complete idiots to be lied to, manipulated and deceived rather than genuinely informed.

The fake news media is truly the enemy of the people!

Follow InformationLiberation on Twitter, Facebook, Gab and Minds.