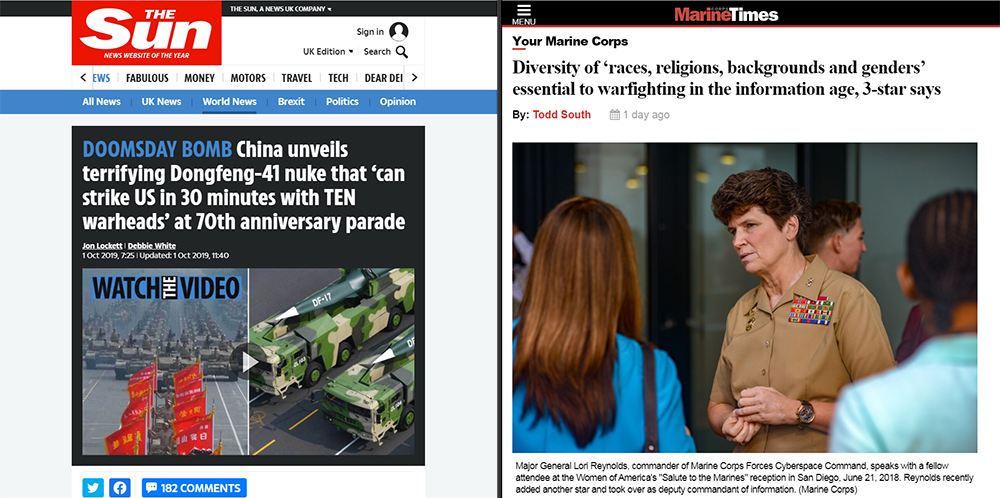 Just days before China unveiled a nuclear weapon that can "strike the US within 30 minutes with ten warheads" as part of a giant military parade, US Major General Lori Reynolds announced she's declaring "diversity" is a "warfighting necessity" which will help America defeat the more homogeneous nations of China and Russia.



First from The Sun, "China unveils terrifying Dongfeng-41 nuke that 'can strike US in 30 minutes with TEN warheads' at 70th anniversary parade":

CHINA has unveiled its "ultimate doomsday weapon" during one of the nation's biggest military parades.

The terrifying super-nuke took centre stage at a huge arms showcase held in Tiananmen Square, Beijing, to mark 70 years of Communist rule.

The Dongfeng-41 is a 7,672 mph intercontinental ballistic missile that is said to have the furthest range of any nuclear missile and could reach the US in 30 minutes.

China's Communist Party celebrated its 70th anniversary in power with a military parade that showcased the DF-41, alongside the country's most advanced weapons.

Soldiers in helmets and combat gear shouted, "hello, leader!" and "serve the people" as a formation of fighter jets trailing coloured smoke swooped low over the capital.
As a reminder, President Trump struggled just to get a few tanks in the vicinity of his military parade on July 4th due to the left.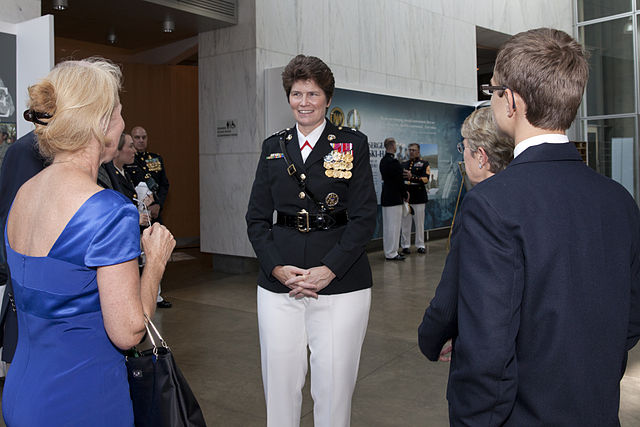 Next, from The Marine Times, "Diversity of 'races, religions, backgrounds and genders' essential to warfighting in the information age, 3-star says":

The challenges of the future operating environment are happening now for the intelligence community, the Marine Corps' top general for information says. And diversity in thinking and in the ranks is essential to meeting the challenge.

Lt. Gen. Lori Reynolds, deputy commandant of information, shared that observation and other insights to more than 300 intelligence Marines at the 9th Annual Marine Corps Association and Foundation Intelligence Awards Dinner Thursday.

"I believe that diversity of thought will matter in the future fight," Reynolds said.

Diverse force, especially in intelligence, she said, is not about quotas but about, "how we think about the tools we put in a toolbox or use keys on a keyboard."

"And I believe a dramatic mix of talent, of all races, religions, backgrounds and genders will be the difference in the future," she said.

The three-star noted how a variety of perspectives, languages and cultures all feed the intelligence understanding of adversaries and of the information environment, an aspect that near-peer competitors such as China and Russia do not hold.

"We must talk about diversity as a warfighting necessity and tonight I'm declaring it essential to the information environment," Reynolds said.
Reynolds' words sound exactly like the BBC propaganda piece I highlighted last month which ridiculously said the CIA was "too white" to prevent 9/11.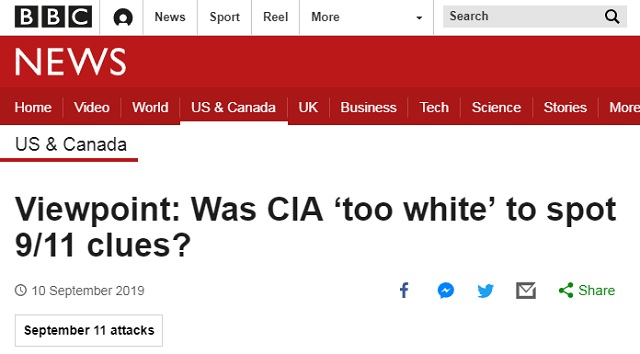 From BBC, "Viewpoint: Was CIA 'too white' to spot 9/11 clues?":

When the Central Intelligence Agency (CIA) failed to prevent the September 11, 2001 attacks, many asked whether more could have been done. But the true reason why the agency was blind to the signs may be a diversity problem, writes Matthew Syed.

[...] A former operations officer said that the CIA had a "white-as-rice culture".

In the months leading up to 9/11, the International Journal of Intelligence and Counterintelligence commented: "From its inception, the Intelligence Community [has been] staffed by the white male Protestant elite, not just because that was the class in power, but because that elite saw itself as the guarantor and protector of American values and ethics."

[...] But an insider in the foremost US intelligence agency said the CIA "could not believe that this tall Saudi with a beard [Osama Bin Laden], squatting around a campfire, could be a threat to the United States of America".

[...] Meanwhile, senior CIA official Paul Pillar (white, middle-aged, Ivy league), was discounting the very possibility of a major act of terrorism. [...]

The dearth of Muslims is merely one illustration of how homogeneity undermined the world's foremost intelligence agency. It provides an insight into how a more diverse group would have created a richer understanding not just into the threat posed by al-Qaeda, but dangers throughout the world.

Matthew Syed is the author of Rebel Ideas: The Power of Diverse Thinking
I wonder if she was the only person who actually read that idiot's book?

Earlier this year, Air Force Gen. David L. Goldfein gave a similar speech focused on fighting the supposed racism of flesh colored Band-Aids, which he too suggested was a "warfighting imperative."


I'd say it's a warfighting imperative not to have our military run by lunatic leftists.

Follow InformationLiberation on Twitter, Facebook, Gab and Minds.