MSNBC's Jason Johnson: Tucker Carlson 'Basically Supports Terrorism'
Chris Menahan
InformationLiberation
Aug. 09, 2019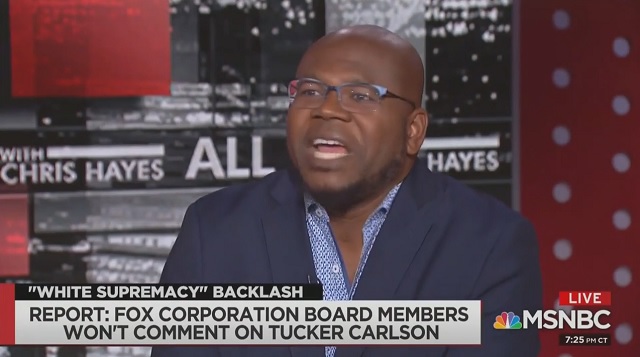 MSNBC regular Jason Johnson told Chris Hayes on Thursday night that Fox News host Tucker Carlson "basically supports terrorism" because he uses "white nationalist rhetoric."

From Mediaite:

"I see Tucker Carlson as a guy who has repeatedly failed in television. Who has been basically given media welfare, a primetime spot and he is still being promoted not because he is good at his job, but because he promotes a certain kind of bigotry that other people can't say as eloquently," Johnson said. "What do we do with that as a society? Do we constantly call him out for it or pretend he is actually just an entertainer?"


[...] "There are still people who want to watch that kind of nonsense," Johnson responded, zeroing in on Carlson. "For the rest of news the media system, for everybody everybody else who is talking about it, we have to now frame this is as this is someone who basically supports terrorism. This is someone who is disingenuous. If youíre talking about this white nationalist rhetoric, you canít support white nationalist rhetoric without supporting terrorism. I think he should be framed in that way."

[...] "You can't support white nationalists without supporting terrorism, because you can't support white nationalism without state sponsored or individual violence," Johnson said. "You can't. It requires moving people from a country they have always been at. That's terrorism."
Incidentally, while Johnson insists Tucker's "rhetoric" basically amounts to terrorism, just last year he justified antifa using violence against police. Johnson also declared that Trump "is a terrorist sympathizer" and "an enemy to non-white people in America."

MSNBC regular Elie Mystal also on Chris Hayes' show Thursday night called for "pitch forks and torches" outside the house of one of Trump's donors' houses.



Does MSNBC's rhetoric amount to "basically supporting terrorism"?

Follow InformationLiberation on Twitter, Facebook, Gab and Minds.