Tulsi Gabbard Calls For Americans to Unite Behind Fighting Big Tech Censorship
Chris Menahan
InformationLiberation
Jul. 30, 2019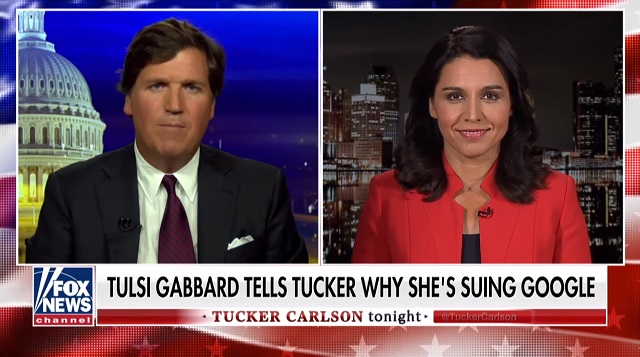 Democratic 2020 presidential candidate Rep Tulsi Gabbard called for Americans across the political spectrum to unite against Big Tech monopolies using their power to "censor and undermine Americans' freedom of speech."

"Join me in this fight to end big tech monopolies power to censor & undermine Americans' freedom of speech -- because whether we are progressives or conservatives, left or right, if we do not stand united to protect our freedoms, we all lose," Gabbard tweeted on Monday.


Gabbard also spoke out against Big Tech censorship on Tucker Carlson Tonight:



From Fox News:

Congress must act to prevent the tech giant from exerting too much influence, she claimed Monday on "Tucker Carlson Tonight."

"This is really about the unchecked power these big tech monopolies have over our public discourse and how this is a real threat to our freedom of speech and to our fair elections," she said.

"So this really isn't about me, it's about taking action on behalf of the American people. Because we got to understand here if Google can do this to me, as a sitting member of Congress running for the highest office in the land, that means they can do this to any candidate running for any office around the country and frankly to any person in this country.

[...] "Google's discriminatory actions against my campaign are reflective of how dangerous their complete dominance over internet search is, and how the increasing dominance of big tech companies over our public discourse threatens our core American values," Gabbard said in a statement. "This is a threat to free speech, fair elections and to our democracy, and I intend to fight back on behalf of all Americans."
A recent poll found Senator Josh Hawley's bill to force Big Tech companies to be politically neutral in order to keep their Section 230 protections was favored 48-21, "by similar margins across all parties."


Follow InformationLiberation on Twitter, Facebook, Gab and Minds.