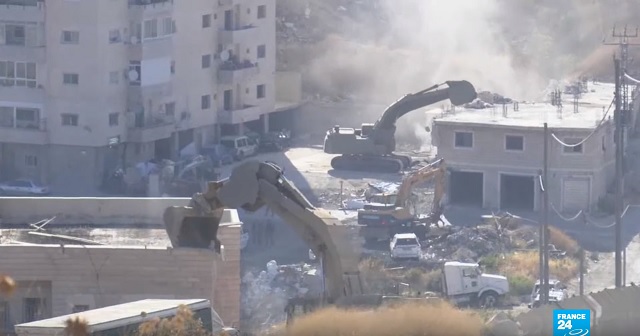 Ben "Transfer is Not a Dirty Word" Shapiro's dreams are one step closer to becoming a reality.

From RT:

Israel has started demolishing 13 residential buildings in East Jerusalem's Wadi Hummus for being too close to the separation barrier, even though the area falls under the Palestinian Authority's administration.

Israel Defense Force soldiers were seen placing explosives in a building set for demolition after they arrived before dawn. Public Security Minister Gilad Erdan said 700 police and 200 soldiers were involved in the operation. They evacuated a family from one of the buildings and removed activists protesting the demolition. Construction vehicles smashed up a number of buildings.
The buildings are set on land that falls within Area A of the West Bank, which is administered by the Palestinian Authority, and the residents got permits from the PA to build there.

However, the High Court ruled in favor of an Israeli Defense Ministry order to demolish 13 buildings because they are too close to the separation barrier, which Israel built around and inside the West Bank. The June decision has sparked fears that it will set a dangerous precedent for other homes in the PA-controlled area.
More:






Incidentally, I couldn't help but notice that Ben Shapiro has said nothing about this major international news story on his Twitter and there's no articles about it on his website The Daily Wire.

Follow InformationLiberation on Twitter, Facebook, Gab and Minds.