Soros Interfering In EU Democracies by Funding Left-Wing Groups to Counter Right-Wing's Gains
Chris Menahan
InformationLiberation
Jun. 23, 2019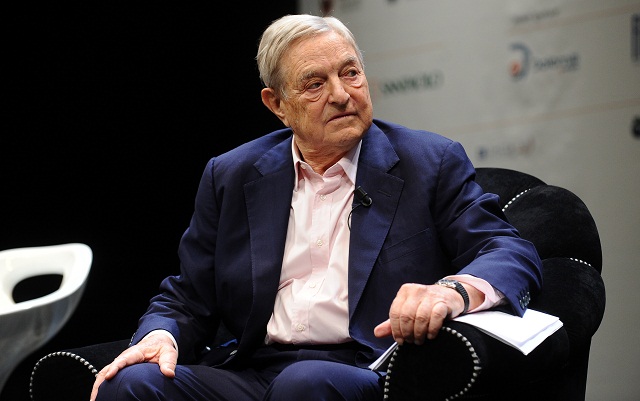 George Soros's Open Society Foundations is planning to dump millions of dollars into various leftist groups in Western Europe which are losing funds due to gains by right-wing nationalist parties in recent elections.

From Reuters, "Faced with rising far right, Soros Foundations look West":

George Soros's Open Society Foundations, best known for funding civil rights activists across Eastern Europe and the developing world, are increasingly turning their attention to affluent western Europe in response to the rise of the far right there.

Officials at the hedge fund magnate and philanthropist's charity, which disburses around a billion dollars a year, said the nationalist right's recent electoral successes were triggering the same contraction in the space for independent activism that had earlier been seen in Eastern Europe.

In southern France, the foundation has stepped in to replace funding to local migrant rights and anti-discrimination groups whose financing was frozen when Marine Le Pen's then-National Front, since renamed National Rally, took power in a number of municipalities.

With Germany's anti-immigration Alternative for Germany set to make gains in regional elections across the country's east in the autumn, the foundation is preparing to take similar steps, said Selmin Caliskan, a director in its new Berlin office.

"We are now looking into the possibility of having a support and solidarity emergency fund for civil society actors in eastern Germany who share our values," she said.

"Everyone who works there on racism, on anti-Semitism, on helping and supporting migrants and asylum seekers, people like the Red Cross, they all have this concern that their funding will be lost," she added.

The enlarged focus - which includes funding organizations devoted to fostering community spirit in poor parts of Northern England that voted strongly for Brexit - reflects a concern that Western Europe is also succumbing to the charms of nationalist strongman leaders like Hungarian Prime Minister Viktor Orban.
When Russia allegedly spent a few hundred thousand dollars running ads on social media to influence America's elections (according to Google, the "full extent" Russia spent with them was only $4,700), it was labeled an "attack on our democracy" and called "election inference" and "meddling."

When George Soros spends potentially billions of dollars to influence politics in Europe and interfere in their elections the media calls it "independent activism," fighting for "civil rights" and "fostering community spirit."

Follow InformationLiberation on Twitter, Facebook, Gab and Minds.