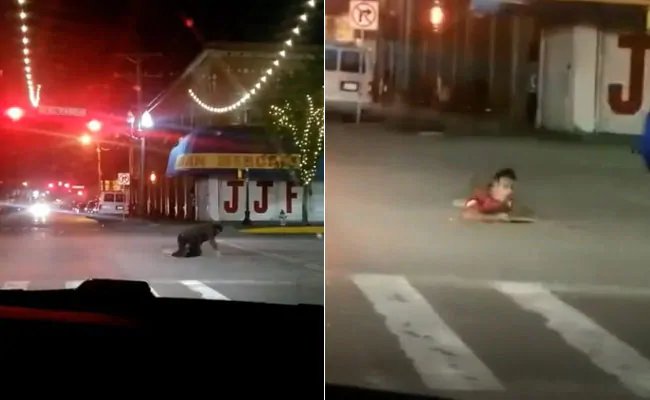 Illegal aliens have allegedly been filmed popping out of manholes at busy intersections in El Paso, over 550 migrants from Africa have been caught in one week and released throughout the country without being screened for Ebola and over half a million illegal aliens are expected to be freed into the US this year -- but don't dare call it an invasion!

WATCH:


This video was posted last month:


From the Conservative Review, "550 African migrants were just caught in Texas. DHS head says they aren't being screened for Ebola":

The border crisis is no longer exclusively a problem of illegal Central American migrants. As word spreads of the collapse of border enforcement, the number of migrants from Africa continues to increase. The threat of bringing in dangerous diseases is higher than ever, yet there are no mandatory and universal screenings, quarantines, or detention before illegal immigrants are released into our communities, often within hours.

According to preliminary weekly data used internally by Customs and Border Protection (CBP) and given to CR by a Border Patrol agent who must remain anonymous because he is not authorized to speak to the press, over 550 African migrants were apprehended in Texas in just one week -- from May 30 through June 5. The lion's share were from the Democratic Republic of Congo, the country with the worst Ebola outbreak in the world. Here's the breakdown:

Angola -- 101
Cameroon -- 6
Democratic Republic of Congo -- 314
Gabon – 1
Niger – 1
Republic of Congo -- 130

The Democratic Republic of Congo (DRC), not to be confused with the smaller separate nation of "Republic of Congo," which is to the immediate west of DRC, is currently experiencing the worst Ebola outbreak ever. As of June 4, according to the World Health Organization, there were a total of 2,025 confirmed and reported cases of Ebola, including 1,357 reported deaths.

In addition to Ebola, the DRC is experiencing 87,000 cases of measles, claiming the lives of 1,500. Angola and Cameroon are also experiencing measles outbreaks, according to the Centers for Disease Control (CDC).

Yet local media in San Antonio reported on Friday that hundreds of these African migrants were seen dropped off at bus stations in San Antonio. I confirmed with CBP last week that there is no special screening, extra scrutiny, or quarantine required of those coming from African countries more than from anywhere else.
WATCH:





Scenes like these are happening every day now:






From Breitbart, "More Than Half a Million Illegal Aliens Expected to be Freed into U.S. This Year":

Nearly 740,000 border crossers and illegal aliens are expected to be released into the interior of the United States this calendar year, new analysis projects.
Princeton Policy Advisors analyst Steve Kopits expects about 309,000 foreign minors and 226,000 adult border crossers to be released into the interior of the U.S. by Department of Homeland Security (DHS) officials by the end of the year. Additionally, about 202,000 adult illegal aliens are expected to enter the U.S. interior, undetected, according to Kopits' forecast.

This projection indicates that far more than half a million foreign minors, adult border crossers, those claiming asylum, and illegal aliens are set to be released into the interior of the country — about 356,000 of which are a direct result of the February spending package approved by Republicans and Democrats and signed by President Trump.

"The bigger [border crossing] numbers … came with the signing of the omnibus spending bill (the Consolidated Appropriations Act of 2019) in mid-February, which essentially prohibited the deportation of any adult from the Northern Triangle countries traveling with a minor and claiming asylum," Kopits wrote.



Meanwhile, at DHS...



Our open borders are our greatest strength!

Follow InformationLiberation on Twitter, Facebook, Gab and Minds.