Jack Dorsey And 170+ CEOs Sign Letter Declaring Abortion Bans 'Bad For Business'
Chris Menahan
InformationLiberation
Jun. 11, 2019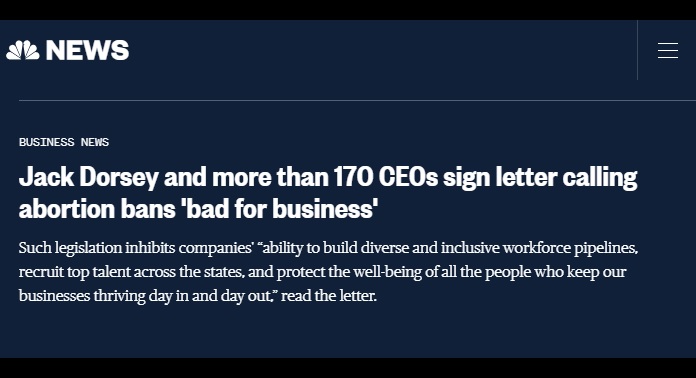 In order for businesses to keep "thriving day in and day out" women need constant, round the clock abortions, our prog-globalist overlords announced in a full-page ad in the New York Times on Monday.


From NBC News:

More than 170 CEOs have signed a letter opposing laws and regulations that restrict women's reproductive healthcare, including abortion.

The letter appears today as a full-page ad in The New York Times under the heading "Don't Ban Equality," and comes less than a month after Alabama Gov. Kay Ivey signed the most restrictive abortion legislation in the U.S., banning doctors from performing abortion at any stage of pregnancy, punishable by 99 years in prison. The law includes no exceptions for cases of rape or incest.

Several other states -- including Georgia, Arkansas, Indiana and Missouri -- have adopted similar laws this year.

Twitter and Square Chief Executive Officer Jack Dorsey, along with fashion designer Rebecca Minkoff, Diane Von Furstenburg, and CEOs from companies including Yelp, H&M, The Body Shop and Glossier, say they signed the letter to send a clear message that restricting access to reproductive care, including abortion, is "against our values, and is bad for business."

Such legislation, the executives write, inhibits "our ability to build diverse and inclusive workforce pipelines, recruit top talent across the states, and protect the well-being of all the people who keep our businesses thriving day in and day out."
The CEOs of Disney and Netflix said as much late last month:


Abortion after abortion is required to keep our GDP high and our factories running at full capacity, 24/7.



This is "our values" and this is "who we are."

Follow InformationLiberation on Twitter, Facebook, Gab and Minds.