Attention President Trump: Capitulating to The Establishment Will Not Keep You Out of Prison
Chris Menahan
InformationLiberation
Jun. 06, 2019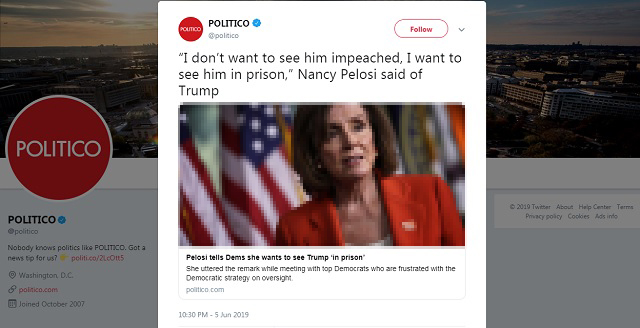 "Speaker Nancy Pelosi told senior Democrats that she'd like to see President Donald Trump 'in prison' as she clashed with House Judiciary Chairman Jerry Nadler in a meeting on Tuesday night over whether to launch impeachment proceedings," Politico reported Wednesday.

Pelosi met with Nadler (D-N.Y.) and several other top Democrats who are aggressively pursuing investigations against the president, according to multiple sources. Nadler and other committee leaders have been embroiled in a behind-the-scenes turf battle for weeks over ownership of the Democrats' sprawling investigation into Trump.

Nadler pressed Pelosi to allow his committee to launch an impeachment inquiry against Trump — the second such request he's made in recent weeks only to be rebuffed by the California Democrat and other senior leaders. Pelosi stood firm, reiterating that she isn't open to the idea of impeaching Trump at this time.

"I don't want to see him impeached, I want to see him in prison," Pelosi said, according to multiple Democratic sources familiar with the meeting. Instead of impeachment, Pelosi still prefers to see Trump defeated at the ballot box and then prosecuted for his alleged crimes, according to the sources.
Trump seems to think that by giving into the establishment he can save himself and his family.


That's not going to happen. These people hate you and everything you represent.

It doesn't matter that you caved on immigration and illegal immigration numbers are higher than ever.


It doesn't matter that you caved on internet censorship and the censorship is worse than ever.


It doesn't matter that you moved the embassy to Jerusalem, bombed Syria and kept our troops in Iraq and Afghanistan.

Though it appears Mueller didn't indict you because you started playing ball, all you're gaining, at most, is a bit of time.


Meanwhile, you're losing your base who in 2016 was ready to fight and die for you in order to save this country.

Your window of opportunity is rapidly closing. When your term is up and you've done nothing to protect your supporters as they were all booted off the internet by Big Tech firms you gave giant tax cuts to, no one is even going to care when they throw you in prison.


You'd better believe it's coming.



Though Michael Wolff is a questionable guy, his prediction that your presidency is going to end "in tears" doesn't sound so far off.

Follow InformationLiberation on Twitter, Facebook, Gab and Minds.