Tucker Carlson Speaks Out Against Targeted Murders Of White South African Farmers
Chris Menahan
InformationLiberation
Jun. 05, 2019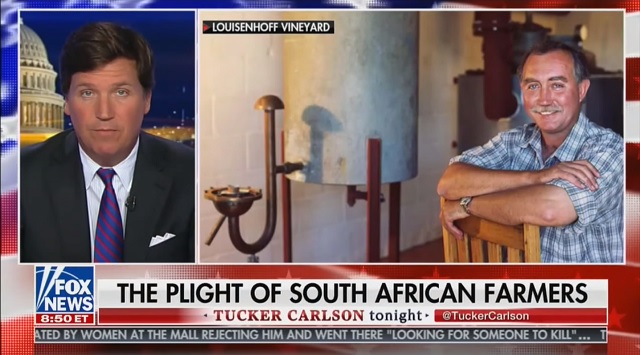 Tucker Carlson spoke out against the surge in "racist violence" targeting white farmers in South Africa and blasted the media for covering it up.



Last month, South African activist and mom Annette Kennealy, who spoke out against the massacre of white farmers in South Africa on social media, was brutally murdered on her farm in a hammer and knife attack.


On Sunday, another white South African farmer who also spoke out against farm attacks, Stefan Smit, was murdered on his farm by four men who broke into his home and shot him in front of his family and friends:


On Wednesday, a third farm attack occurred in the same area of the Cape Winelands, which the Western Cape government said has become "a hot spot for farm attacks."

On the same day Smit was murdered, "an elderly couple's house was broken into on a farm nearby."

"Three armed suspects gained entry to the house and threatened the two occupants, both aged 70. They fled with personal belongings and are yet to be arrested."

During a separate incident on Tuesday morning, a woman was attacked by robbers in her house on a Klapmuts farm. - EWN.co.za
Tucker reported on Smit's murder Monday night and took the media to task for covering up this epidemic of racist violence.

From The Daily Caller, "Tucker Says 'Skin Color Is The Central Motivation' For Brutal South African Killings":

While the Times had interviewed Smit for a March piece about the struggle for land in the country's wine region, the outlet — in the same article — called claims that South African farmers were being murdered in large numbers and forced off their land "false or exaggerated allegations."

Carlson began the segment by pointing out the "hundreds" of farmers killed, "some of whom after suffering horrific tortures." And yet, the South African government has responded not by "protecting the farmers" but by working "to change the country laws in order to seize land without compensation."

"And skin color is a central motivation here," said the Fox News host. "Nobody denies that. Let's be clear about what is happening. This is racist violence, as brutal and horrifying and indefensible as anything that happened under Apartheid."
Follow InformationLiberation on Twitter, Facebook, Gab and Minds.