Chips Ahoy Mother's Day Ad Features Man In Drag Encouraging People to 'Get These Cookies'
Chris Menahan
InformationLiberation
May. 12, 2019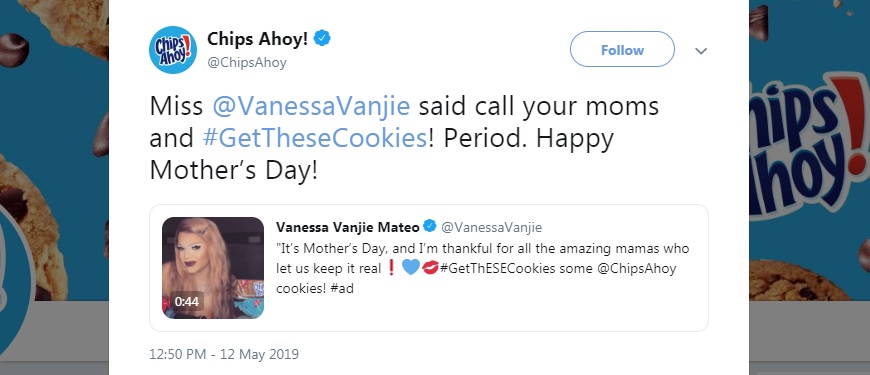 If you had any question as to whether we're living in the end of days, look no further.

Chips Ahoy, which is owned by the multibillion dollar megacorporation Mondelez Global, paid drag queen Jose Cancel from the show "RuPaul's Drag Race" to encourage their "moms" and "drag moms" to "get these cookies" for Mother's Day.

"Y'all know what we is celebrating today? Mother's Day," Cancel said. "And I am so thankful to have a mother, like mines, who supports me through all my craziness and loves on me and buys me Chips Ahoy cookies -- chewy, the original everything under the sun."

"My mom knows I love those cookies, so get those cookies," Cancel said.


Chips Ahoy tweeted/retweeted the ad out three separate times. It was also posted to Instagram.



Note, this is being promoted by one of the largest megacorporations on the Fortune 500.

Chips Ahoy made headlines last month after issuing a recall due to an "unexpected solidified ingredient" being found in their cookies.

Mondelez Global said at the time that a "small number of consumers have reported gagging, choking or dental injury."

Earlier this month, Converse also advertised their new "Pride Collection" using an 11-year-old boy in drag:



While dressing boys up drag and exploiting them to sell shoes on social media is just fine according to the values embraced by our Fortune 500, criticizing prog-globalism can get you banned from all social media and lead to your PayPal and bank account being closed.

Follow InformationLiberation on Twitter, Facebook, Gab and Minds.