Wayne LaPierre Re-Elected Unanimously by NRA Board After Oliver North 'Coup' Fails
Chris Menahan
InformationLiberation
Apr. 30, 2019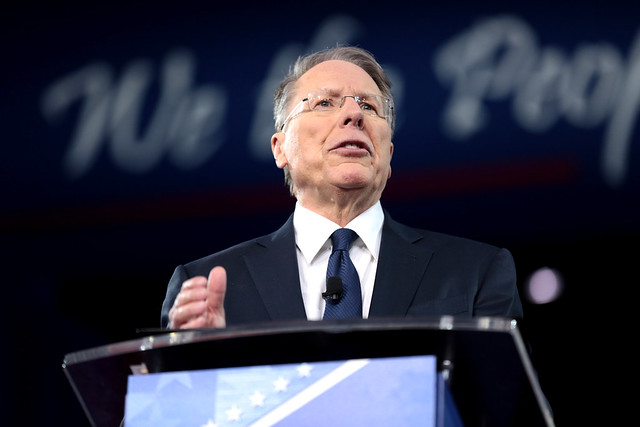 NRA Executive Vice President/CEO Wayne LaPierre was re-elected "unanimously and unopposed" on Monday after fending off what appeared to be a diabolical coup attempt by Oliver North.

The NRA released the following statement on Monday:

National Rifle Association Executive Vice President/CEO Wayne LaPierre was re-elected unanimously and unopposed by the NRA Board of Directors at their meeting in Indianapolis, Ind., April 29, 2019.

Carolyn Meadows was elected NRA President; Charles L. Cotton, First Vice President; and Willes Lee, Second Vice President.

"I am honored to serve as President of the NRA Board and to help the organization chart its course for the future," said Meadows. "The Board stands behind Wayne, our members, and the promise of the future of this great Association."

Also retaining their offices are NRA Secretary/General Counsel John Frazer; and Craig Spray, Treasurer.

Chris W. Cox was re-appointed as Executive Director for the Institute for Legislative Action; and Joseph De Bergalis, Jr., Executive Director, General Operations."

All NRA officers were elected unanimously and unopposed.

"United we stand," said Wayne LaPierre. "The NRA Board of Directors, our leadership team, and our more than 5 million members will come together as never before in support of our country's constitutional freedoms. The challenges ahead of us are our greatest opportunities--confronting our adversaries, defending the Association, and continuing our tradition as the greatest civil rights organization in the world."   LaPierre continued, "I am humbled by the Board's vote of confidence and its support of my vision for the future. Together, we will continue to serve our members and advocate for all who believe in the fight to defend our Second Amendment freedom."
Congratulations, Mr. LaPierre!

Follow InformationLiberation on Twitter, Facebook, Gab and Minds.