Michael Moore to White People: Your 'Old Tired Privileged Ways Are Over'
Chris Menahan
InformationLiberation
Apr. 18, 2019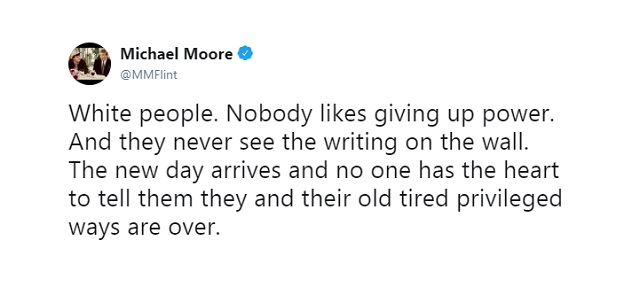 It's fascinating the way leftists seamlessly transition between "diversity is our greatest strength" and a win for all involved and "white people becoming a minority is divine punishment for your sins."

In response to Nancy Pelosi "minimizing" Alexandria Ocasio-Cortez and Ilhan Omar on 60 Minutes, Michael Moore wrote Monday on Twitter: "White people. Nobody likes giving up power. And they never see the writing on the wall. The new day arrives and no one has the heart to tell them they and their old tired privileged ways are over."


Why not give up some of your own privilege, Michael?


People are starving in Africa, Michael.

Put down the doughnut and open up your pantry to people in need!


Follow InformationLiberation on Twitter, Facebook, Gab and Minds.