Tulsi Gabbard: Trump Veto Shows He's The 'Servant Of Saudi Arabia'
Chris Menahan
InformationLiberation
Apr. 18, 2019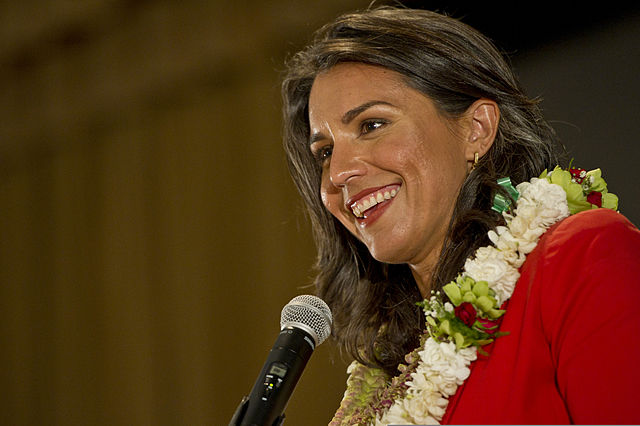 You're getting warmer, Tulsi!


From Zero Hedge:

Democratic presidential candidate for 2020 Rep. Tulsi Gabbard lashed out at Trump on Wednesday after the president vetoed the Yemen War Powers Resolution this week, which sought to end US support for the Sauid-led war in Yemen.

The Hawaiian congresswomen and outspoken US foreign policy critic asserted the president is turning the nation "into the prostitute of Saudi Arabia" and further stated he vetoed the bill "to please his Saudi masters" in a minute-and-a-half campaign video.

"Unlike Donald Trump I will not turn our great country into the prostitute of Saudi Arabia."

The former combat veteran who served in the Iraq War has gotten visibility and vast push back even within her own party for making "ending regime change wars" her campaign focus.

"By vetoing the war powers resolution, Trump has again proven that he is the servant of Saudi Arabia, the theocratic dictatorship that spends billions of dollars every single year spreading the most extreme and intolerant form of Islam around the world," Gabbard said in a social media video. "The very same ideology that motivated al Qaeda and other jihadists," she added, echoing her prior theme calling out Saudi support for al-Qaedia and ISIS.

[...] In her latest provocative campaign video, Gabbard further suggests that in aiding Riyadh, American is giving indirect support for ISIS, saying:

Saudi Arabia also supports terrorist groups like al-Qaeda and ISIS in a number of other ways. and they are waging a genocidal war in Yemen with US support.

She continued, "Unfortunately Trump is more interested in pleasing the Saudis than doing what is right." And calling out what appears to be the president's violation of his own 'America first' policy, she said: "I guarantee you that as president I will actually put the interests and the values of the American people first, not the interests of the theocratic dictatorship of Saudi Arabia."
I question whether Trump is so much the "servant" as the hostage or the dupe.

Regardless, Tulsi is excellent on the foreign policy front and she needs to do what she needs to to get her name out there.

Follow InformationLiberation on Twitter, Facebook, Gab and Minds.