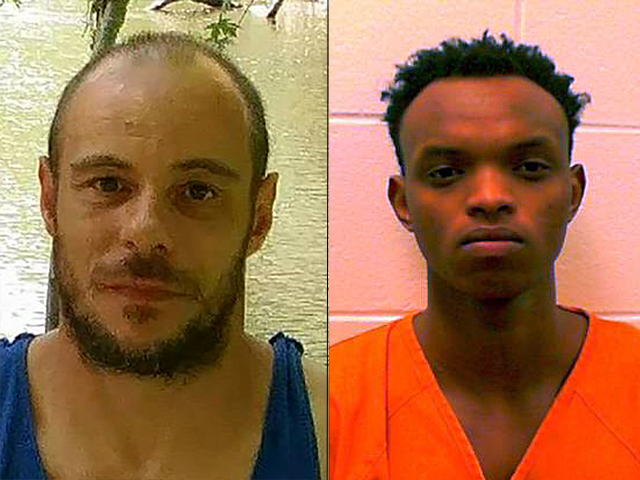 Charges have finally been filed in the brutal murder of Donald Giusti last year in Lewiston, Maine, a once quiet town which has since become a hotbed for gang violence after nearly two decades of refugee resettlement.

Somalis began migrating to Maine in the early 2000's due to the "low crime rates and good educational opportunities."

From Sun Journal, "Police: Teen charged with manslaughter says he threw rock during fatal fight":

A local teen who told police he threw a rock into a crowd during a fight last summer that struck the head of a man who later died denied a manslaughter charge Thursday.

Emmanuel Knurunziza, 18, appeared in 8th District Court after he was arrested as a juvenile earlier in the day by Maine State Police in Limestone. He was 17 years old at the time of the fight. The felony is punishable in adult court by up to 30 years in prison.
In addition to Knurunziza, a 13-year-old boy and a 23-year-old man, both of Lewiston, were arrested early Thursday in downtown Lewiston in the June 2018 beating death of Donald G. Giusti near Kennedy Park. The two were charged with misdemeanor assault. The teens were taken to Long Creek Youth Development Center in South Portland.

Giusti, 38, died June 15 at Central Maine Medical Center in Lewiston, three days after he was beaten on Knox Street.

A medical examiner determined the cause of death to be blunt-force trauma that included two "significant areas" of trauma to Giusti's head and brain. Deputy Medical Examiner Lisa Funte also noticed a "patterned injury" on Giusti's left shoulder, a broken clavicle and a fracture to one of his left rear ribs, according to the autopsy report.
Read the actual police report if you want the real scoop: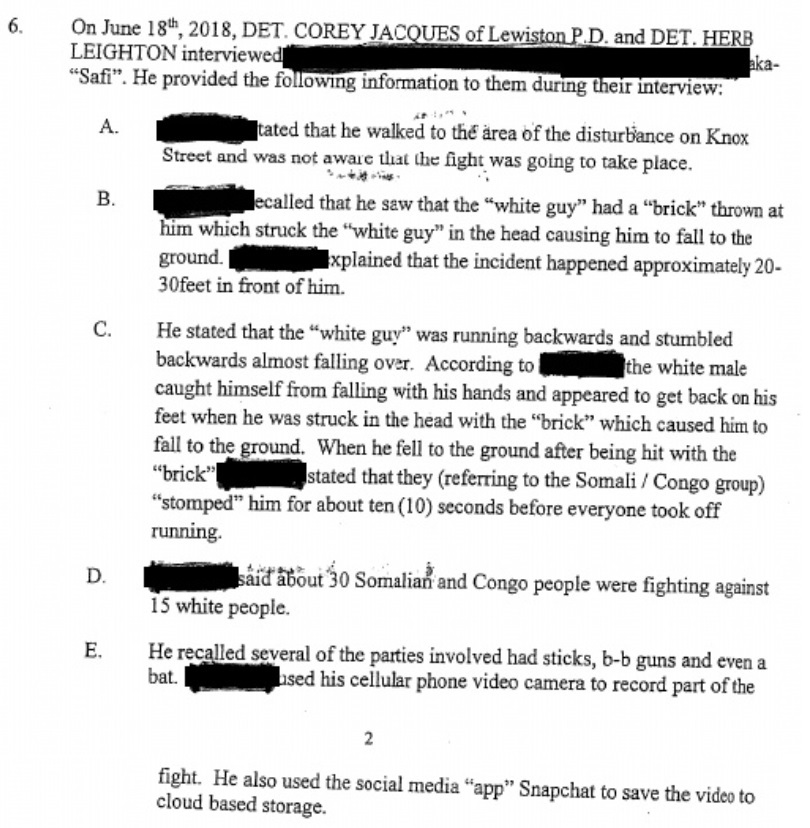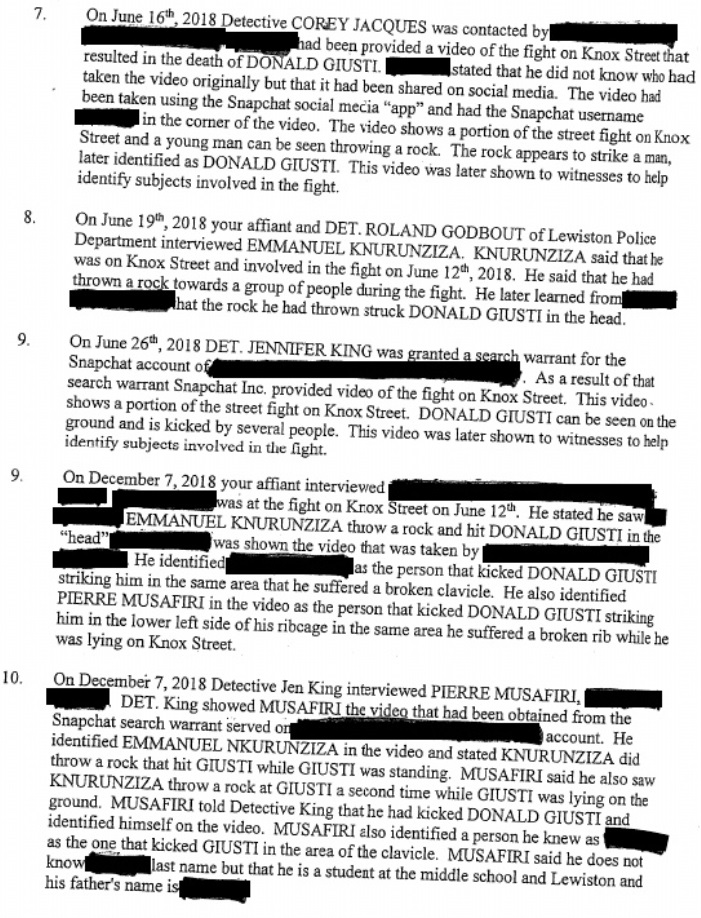 A witness said they smashed his head with a brick, "which caused him to fall to the ground," then the "the Somali and Congolese group 'stomped' him for about 10 seconds."

Taxpayers, who paid to resettle all these migrants, are now also on track to pay for these accused killers' legal defenses:

In the courtroom Thursday, Knurunziza sat next to his father, his hair braided and pulled back. He wore a blue-and-black windbreaker and faded jeans. An interpreter translated English to Lingala, a Bantu language. Three other members of his family were also seated in the courtroom.

His lawyer, Allan Lobozzo, entered a denial on Knurunziza's behalf. The teen's father must file a financial affidavit to determine whether Knurunziza qualifies for a court-appointed lawyer.

Lobozzo said the teen had never run afoul of the law.

"This is the first time he's ever been in a courtroom in his life," Lobozzo said.
Lewiston Democratic Mayor Kristen Cloutier released this pathetic statement:

"I would like to extend my thanks to the Lewiston Police Department, the Maine State Police, and the State Attorney General's Office for conducting a thorough investigation into the events that resulted in the death of Donald Giusti. This has been a long and complicated investigation, and it is my sincere hope that its conclusion will help bring closure to the members of the Giusti family and allow our Lewiston community to begin the process of healing and reconciliation.

"As the mayor of Lewiston, I hope that we will come together as a community to grieve and process our losses, but also to get to know our neighbors, whether longtime residents or newcomers, and build relationships that will strengthen our community's bonds and prevent tragic events like this from happening in the future.

"We must make a concerted effort every day to relate to each other with civility and understanding and to reject that which would divide us. This will be hard and sometimes uncomfortable work, but I know we have the strength to confront it. The safety and future of our community depend on it."
Hopefully she can find someone to translate that to Lingala.

Follow InformationLiberation on Twitter, Facebook, Gab and Minds.