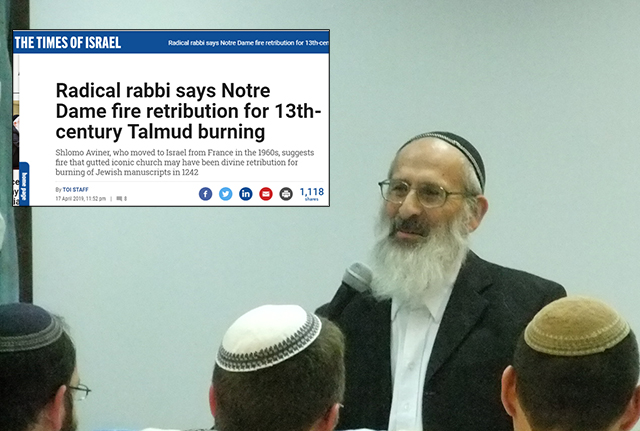 Israeli Rabbi Shlomo Aviner suggested on Wednesday that the fire at Notre Dame was divine retribution for Christians burning Talmud manuscripts near the cathedral in 1242.

From The Times of Israel:

After initially balking at the assertion that the Notre Dame fire was divine vengeance, as "we don't know the secrets of God," Aviner [the rabbi of the Beit El settlement and head of the Ateret Yerushalayim yeshiva] went on to say it was "possible to say so."

Christianity, he explained, "is our number one enemy throughout history. [They] tried to convert us by arguments and by force, carried out an inquisition against us, burned the Talmud, expulsions, pogroms. Western anti-Semitism draws from Christianity's hatred of the 'murderers of God.' It also had a role in the Holocaust."

[...] "The first great Talmud burning happened in Paris, right there at the Notre Dame Cathedral square," Aviner wrote. "It was the result of the Paris trial in which Jewish sages were forced to debate Christian sages, and the result was the burning of the Talmud. Volumes of Talmud were brought in 20 carts and burned there, 1,200 Talmud volumes. So [the fire demonstrates] 'there is justice and there is a Judge,'" he wrote, the quote a reference in Jewish religious literature to divine justice.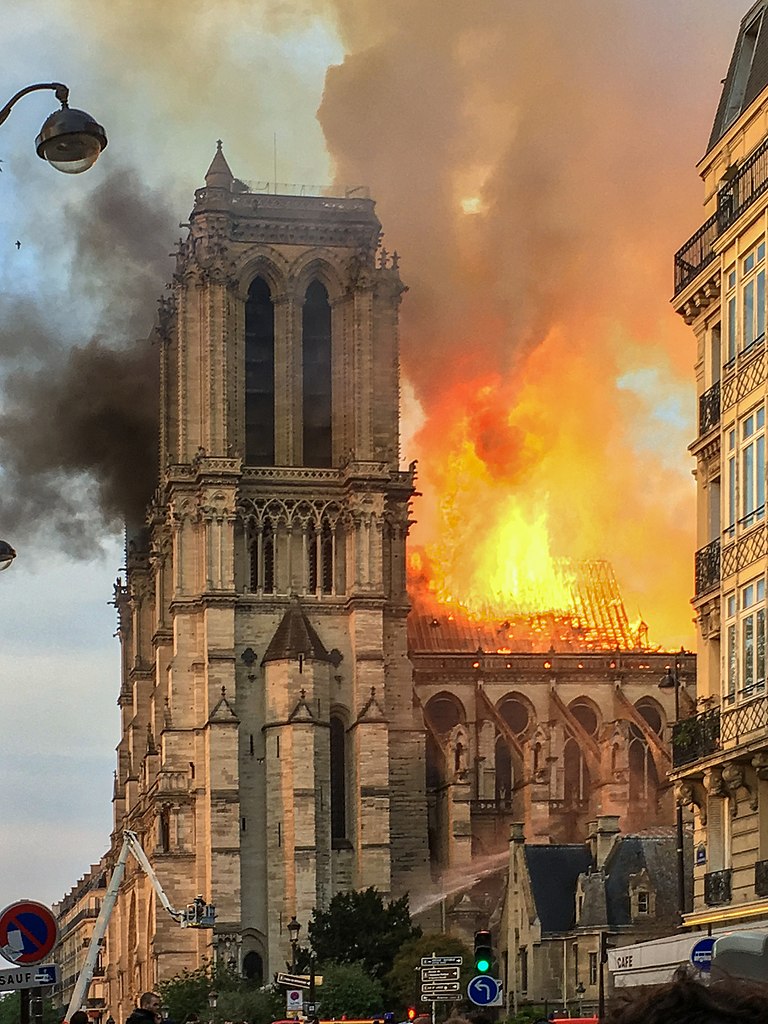 Aviner also suggested it may be appropriate to burn Christian churches down in Israel.

As Mondoweiss reports:

Prominent settler rabbi, Shlomo Aviner, ruled today (Tuesday) that burning churches outside of the Land of Yisrael "isn't our job for now", but as for the Holy Land, "the issue is more complicated". Aviner seemed to leave the question of burning churches in the Holy Land to the questioner.

Aviner, who draws a public salary as the rabbi of the major settlement Beit El and is also the rabbi of a prestigious yeshiva (Ateret Yerushaliam, formerly Ateret Cohanim), is considered to be one most important rabbis of the religious nationalist sector. He is a prolific writer, having published more than 200 books in several languages. [...]

Today, after the fire in Notre Dame Cathedral, Aviner was asked the following question:

"The great Christian Church in Paris is on fire. Should we feel sorry for that, or should we rejoice, as it [the cathedral] is idolatry, which is a mitzvah to burn?"

The questioner is here referring to the Halachic ruling that churches are considered idolatry, and should be destroyed.

Aviner replied as follows:


"This isn't our job for now. There is no mitzvah to seek out churches abroad and burn them down. In our holy land, however, the issue is more complicated. Indeed, the Satmar Rabbi noted one of his arguments against immigrating to Israel, that here it is indeed a mitzvah to burn churches; and by not doing so, those [immigrating to Israel] are committing a sin. Yet Rabbi Menachem Mendel Kasher, in his book 'The Great Period', rejected the Satmar Rabbi's words, citing a midrash, forbidding burning [churches], since if we burn, we'll have to rebuild, and it's a greater sin to rebuild [a church] than leave it standing. [Here Aviner cites his own book vs. the Satmar Rabbi] That church in Paris, too, will surely be rebuilt."

(Oh, yes: American Jewish readers, I probably need to stress this – this is not a parody or a satire. This is actual rabbinical discourse in 2019 Israel.)



[...] Several churches have been burnt in Israel in the last few years, and the police have been spectacularly useless in capturing the arsonists. In several cases, the arson was accompanied by slogans familiar from 'price tag' attacks in the West Bank (mostly along the lines of Jewish vengeance). Four years ago, Lehava leader Benzi Gopstein, asked whether he supported church burnings, said "of course, what's the question?" His words caused uproar. Later Gopstein was indicted on incitement to violence charges, but church burning wasn't one of them.

Aviner, and other Orthodox rabbis, are in a bind here. Several immensely important rabbinic rulers, most prominent among them Maimonides, ruled that churches are places of idolatry and ought to be destroyed. The rulings are very clear. However, to support those rulings today would lead to violence, probably to a rise in anti-Semitism, and will jeopardize the alliance between the settler movement and the evangelical movement.
Gadi Gvaryahu, executive director of the NGO Tag Meir, suggested Aviner's comments were a dog whistle to Israel's far-right: "If an important rabbi says, 'There is no commandment to seek out Christian churches overseas and burn them, but in our holy land the issue is more complicated,' what can we expect the outlying extremists on the right to say and do?"

Follow InformationLiberation on Twitter, Facebook, Gab and Minds.