Julian Assange Arrested in UK, Stripped of Ecuadorian Citizenship, U.S. Demands Extradition
Chris Menahan
InformationLiberation
Apr. 11, 2019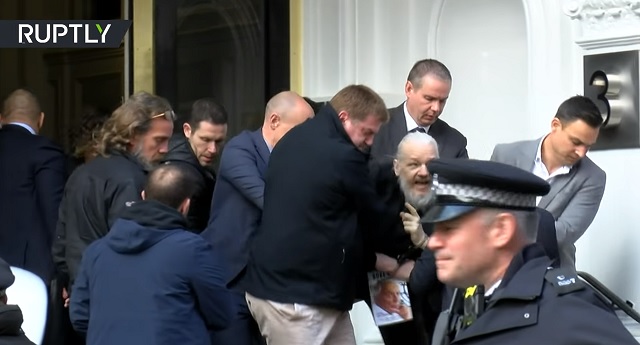 This is retaliation for exposing the crimes of Western governments.

From RT:

WikiLeaks founder Julian Assange has been dragged out of the Ecuadorian Embassy in London where he has spent the last seven years. That's after Ecuador's president Moreno withdrew asylum.

That's only a day after WikiLeaks Editor-in-Chief Kristinn Hrafnsson claimed that an extensive spying operation was conducted against Assange in the Ecuadorian Embassy. During an explosive media conference Hrafnsson alleged that the operation was designed to get Assange extradited.

Assange's relationship with Ecuadorian officials appeared increasingly strained since the current president came to power in the Latin American country in 2017. His internet connection was cut off in March of last year, with officials saying the move was to stop Assange from "interfering in the affairs of other sovereign states."
Imagine if they used this level of force to stop the Pakistani "grooming" gangs in Rotherham:



More from RT:

Assange was taken into custody at a central London police station, and the arrest was made at a US extradition request, the Met Police have confirmed, saying he will appear at London Magistrates' Court.

Julian Assange has been "further arrested on behalf of the United States authorities after his arrival at a central London police station," the Metropolitan Police confirmed. The US cited the Extradition Act while filing the request, they informed.


"Ecuador's Foreign Minister has announced that the country has suspended Wikileaks founder Julian Assange's Ecuadorean citizenship, which he was granted at the end of 2017," RT reported Thursday.



The media, who has spent the past three years whining about Trump's attacks on the press, will now cheer Assange being arrested for publishing evidence of war crimes and exposing criminality in the US government.



UPDATE: Here's more on the charges against him:




Follow InformationLiberation on Twitter, Facebook, Gab and Minds.