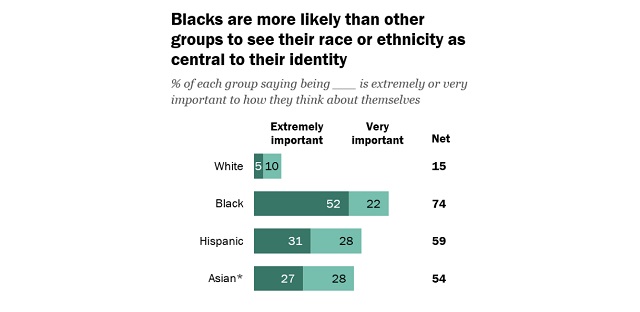 A new poll from Pew Research found only 15 percent of white people say their race is either "extremely important or very important to how they think about themselves" while solid majorities of every other race feel just the opposite.

From Pew Research:

Blacks are more likely than Hispanics or Asians – and much more likely than whites – to say that their race is central to their identity. About three-quarters of black adults say being black is extremely (52%) or very (22%) important to how they think of themselves; 59% of Hispanics and 54% of Asians say being Hispanic or Asian, respectively, is at least very important to their overall identity, with about three-in-ten in each group saying it's extremely important. In contrast, just 15% of whites say being white is very or extremely important to how they think of themselves; about two-thirds say it's either only a little important (18%) or not important at all (47%).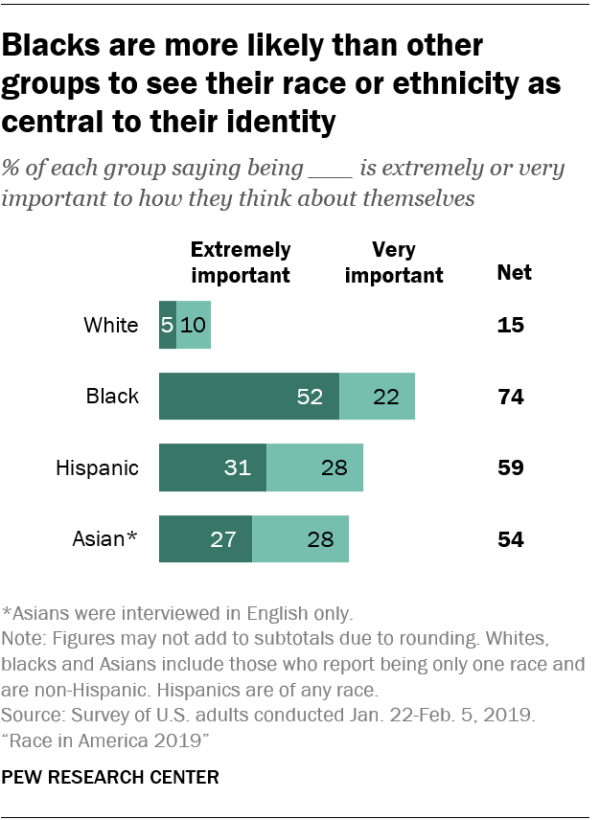 Whites and blacks younger than 30 are less likely than their older counterparts to say their race is at least very important to their overall identity. Some 64% of black adults ages 18 to 29 say being black is at least very important, compared with roughly three-quarters or more among older age groups. And while relatively few whites across age groups say being white is central to how they think about themselves, whites younger than 30 are among the least likely to say so.

Among Hispanics, those born abroad are more likely than those born in the U.S. to say being Hispanic is at least very important to how they think of themselves (65% vs. 52%).
Despite being the least focused on race, the poll found 45 percent of white people said that people have "assumed they were racist or prejudiced" because of their race or ethnicity, which is nearly double all other racial/ethnic groups.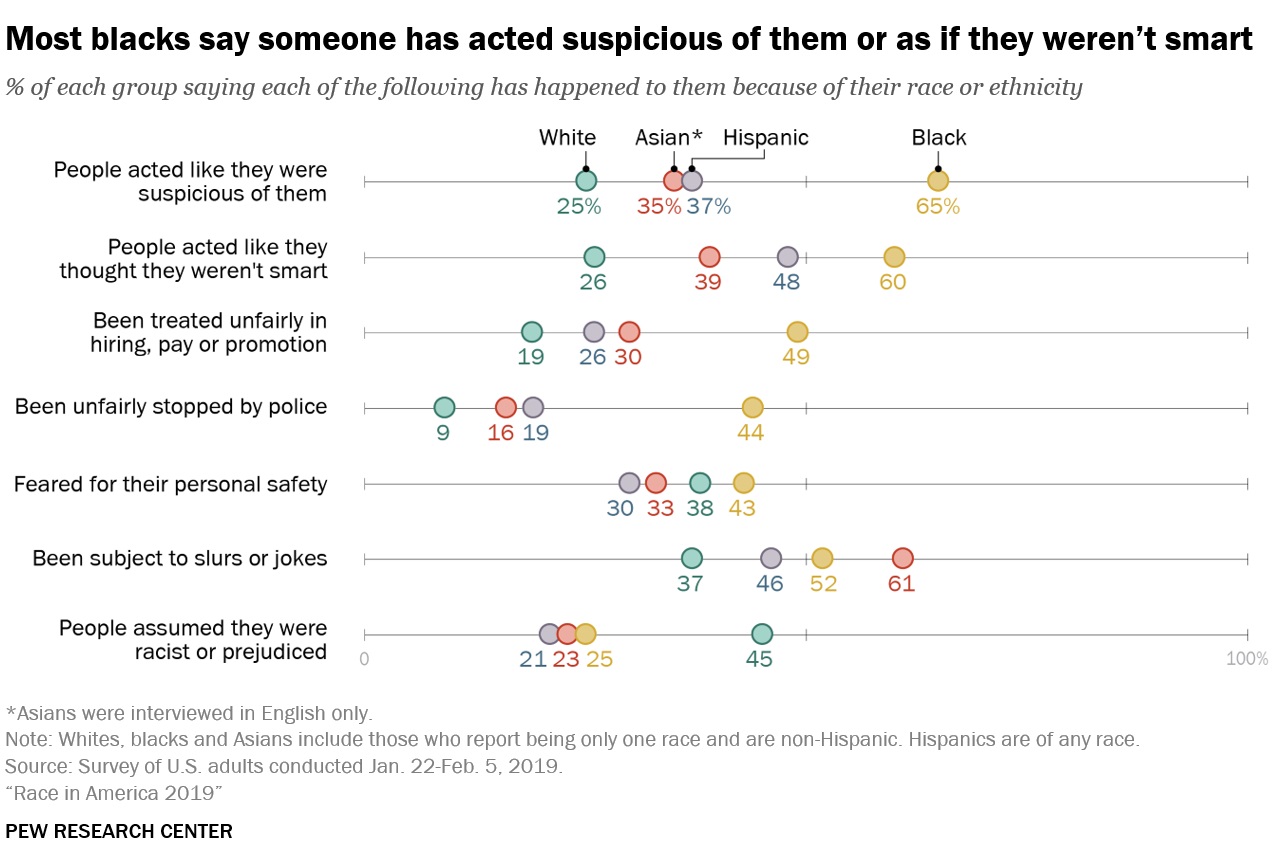 The poll also found 38 percent of white people said they've "feared for their personal safety" because of their race or ethnicity versus 43 percent of blacks, 33 percent of Asians and 30 percent of Hispanics.

Another recent study found white liberals are the only group of people who view their own race in a negative light.

As American Greatness reports:

In-group bias is a widely recognized phenomenon. In recent survey data, every group measured--from black conservatives to Asian-moderates--shows a significant, and unsurprising, in-group preference. Except for white liberals, who show significant out-group bias--meaning white liberals prefer nonwhites to whites.

[...] Out-group bias is not shared by liberal Asians, Latinos or African Americans, all of whom have more typical in-group preferences.

The recent GenForward survey from the University of Chicago, the first nationally representative survey of youth focused on race and ethnicity, suggests that young white liberals harbor a dislike for whites. (I am indebted to Zach Goldberg, a doctoral student at Georgia State University, who graphed all of the survey data presented here.)



When looking at the GenForward data (all surveys were done confidentially online to minimize social desirability bias), whites of all ethnic groups had the lowest in-group bias, with moderates having a slightly higher bias than white conservatives. This would seem to counter the notion pushed by many on the Left that contemporary conservatism is some sort of stalking horse for white nationalism.

Using the even larger American National Election Studies (ANES) dataset that includes voters of all ages, we observe the same phenomenon. African-Americans show the highest in-group bias independent of ideology.



Hispanics and Asians are bunched in the middle, with no obvious ideological relationship between in-group bias and ideology. But apart from liberal whites, every group has a substantial in-group preference. In this respect, white liberals really are exceptional.
Follow InformationLiberation on Twitter, Facebook, Gab and Minds.