WashPo: Joe Biden's 'Biggest Liability' Is That He's White
Chris Menahan
InformationLiberation
Mar. 29, 2019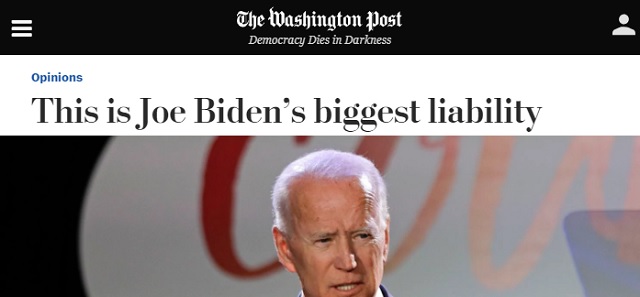 Try though he may, Joe Biden can't escape his "whiteness."

From The Washington Post, "This is Joe Biden's biggest liability":

Anita Hill, Biden says, "faced a committee that didn't fully understand what the hell it was all about" — a "bunch of white guys" who "knew a lot less about the extent of harassment back then, over 30 years ago." The excuse, in essence, is that he was trapped: Biden was a politician, and politics was stuck in a "white man's culture" he now condemns. Therefore, Biden was stuck too.

[...] The Democratic Party is also stuck where all of America is stuck: in a politics that continues to cater to a bunch of white guys. There, Biden's approach is incompatible with the goal of significant change.

Biden is seeking a middle ground that tries not to offend a suburban and rural blue-collar constituency — which is probably the same middle ground he was seeking in the 1970s when he excoriated school busing because, by forcing white people to do something they did not want, it would "fill them with hatred." Yet wooing these voters reinforces the notion that in a browning America, those who have long been accustomed to having the final say shouldn't have to change or give anything up.
So much for that whole "diversity is a win-win for all involved" line.

Suddenly, it's a zero-sum game and whites have to be knocked down a peg.

Follow InformationLiberation on Twitter, Facebook, Gab and Minds.