This Error-Ridden Ocasio-Cortez Clip Is Twitter's Most Watched Political Video Ever
Chris Menahan
InformationLiberation
Feb. 13, 2019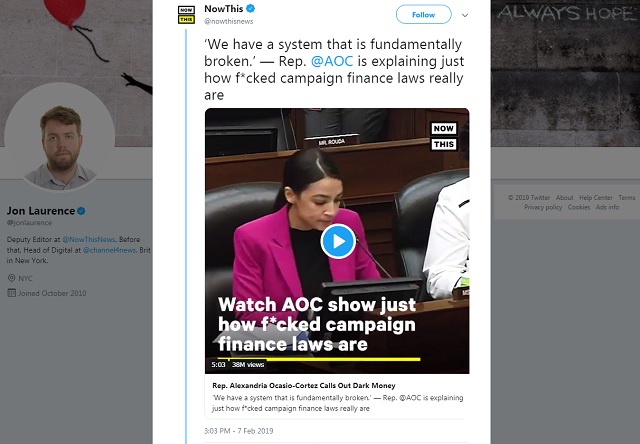 An error-ridden 5-minute video of Alexandria Ocasio-Cortez attacking President Trump as a "bad guy" is the "most viewed video of any politician on Twitter, ever," according to NowThis deputy editor Jon Laurence.


The video, which has amassed 38 million views according to Twitter's stat counter, was tweeted out by "comedian" James Corden who called it "just sensational":


This part was conveniently cut out:


The notion everything she said applies to President Donald Trump couldn't be more wrong.

According to an October 2018 report from NBC News, Trump has lost one billion dollars since becoming president.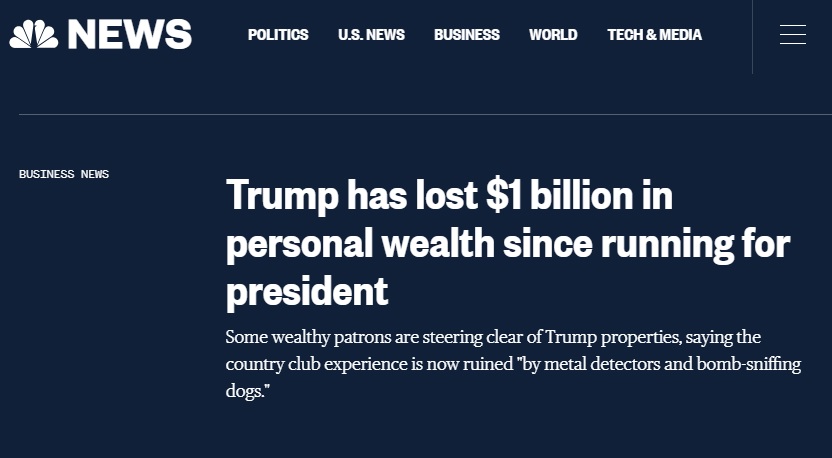 As the BBC reported in January 2017, Trump handed his entire business empire over to his sons:

No new foreign deals will be made during Mr Trump's presidency, according to Ms Dillon, and domestic deals will be subject to a "rigorous vetting process".

And she said the group has cancelled more than 30 pending deals in recent weeks, in order to avoid potential conflicts of interest.

Earlier in the news conference Mr Trump said he had rejected a $2bn deal in Dubai last weekend, demonstrating he was putting his business activities behind him.
Additionally, most of the people who helped Trump get elected have been thrown in jail and forced to plead guilty to manufactured process crimes as a result of a 2-plus year never-ending witch hunt based on lies.



Criminality is perfectly fine so long as you're a servant of the establishment but if you go against the establishment -- which Trump did in the beginning of his presidency -- they'll use everything in their power to crush you and bring you in line.

They'll spy on all your communications and send the FBI to entrap you as they did with Michael Flynn -- then the FBI director will laugh about "getting away with it" on MSNBC.



They'll pour over every detail of your financial history going back decades and use it to convict you of "tax evasion" as they did with Paul Manafort.

They'll force you to testify before congress, deny you your right to plead the fifth by threatening to hold you in contempt, then throw you in prison for "lying" to congress because you forgot or misstated something during hours and hours of testimony as they're trying to do to Roger Stone.

It appears like the deep state has managed to get Trump to fall more in line lately because they're threatening to throw his son, Donald Trump Jr., in prison for "lying" to congress just like they're doing with Roger Stone.

The newly-appointed attorney general of New York late last year openly said she's going to "use every area of the law" to prosecute Trump, his family and "anyone in his orbit" -- and it's being done as we speak.

For Cortez to suggest Trump is benefiting from this crooked system and not being targeted for destruction by it is a joke.

Follow InformationLiberation on Twitter, Facebook, Gab and Minds.