'Twitter, Do Your Thing': Twitterati Target Elderly 'Racist White Lady' Who Appears to Have Dementia
Twitter activist encourages people to target random elderly woman's "grandkids, friends, old coworkers, & extended family."
Chris Menahan
InformationLiberation
Jan. 28, 2019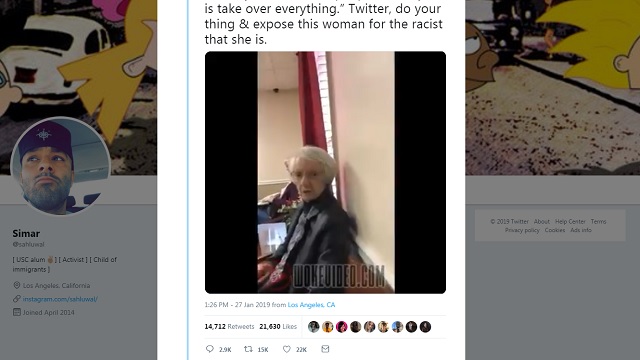 After their attack on the young boys of Covington Catholic High School failed, the Twitterati have picked a new target.

Twitter activist Simar Ahluwalia, who describes himself as a "USC alum" and the "Child of [Indian] Immigrants," on Sunday shared a 37 second video -- devoid of all context -- of a black woman filming a random old white lady who appears to be suffering from dementia stammering out something "racist" (while literally struggling to speak).

Knowing full well the power the "systematically oppressed" Twitterati have to destroy powerless people through their hysterical lynch mobs, Simar Ahluwalia wrote, "Twitter, do your thing & expose this woman for the racist that she is" and encouraged the mob to target her "grandkids, friends, old coworkers, & extended family."



Simar Ahluwalia made clear that the elderly woman's age is no reason not to target her:


Acknowledging the old white lady is not likely to have any online presence, Ahluwalia said people should target her "grandkids, friends, old coworkers, & extended family."


Ahluwalia also made fun of her apparent dementia with a reference to Harry Potter (ableism is just fine if you're attacking elderly "racist" white women):


Ahluwalia acknowledged her generation actually defeated the Nazis in WWII but nonetheless felt it appropriate to suggest she's a Nazi herself:



All this is happening just days after Ahluwalia helped amplify the Covington Catholic hoax:




He retweeted this false post from Congresswoman Deb Haaland:



Every single day, with Twitter CEO Jack Dorsey's full backing, the Twitterati form a new lynch mob to go after the various enemies of prog-globalism -- whether it be some white kids smiling in the Covington Catholic case or in this case just a random old lady with zero systemic power who appears to have dementia. Meanwhile, Twitter will seemingly ban you instantaneously for poking fun at laid off liberal journalists by telling them to "learn to code."

Follow InformationLiberation on Twitter, Facebook, Gab and Minds.