Gov Bevin: Media Rushed to Judge MAGA Teens Because Of Their 'Color, Gender, Faith, Where They Lived...'
Chris Menahan
InformationLiberation
Jan. 23, 2019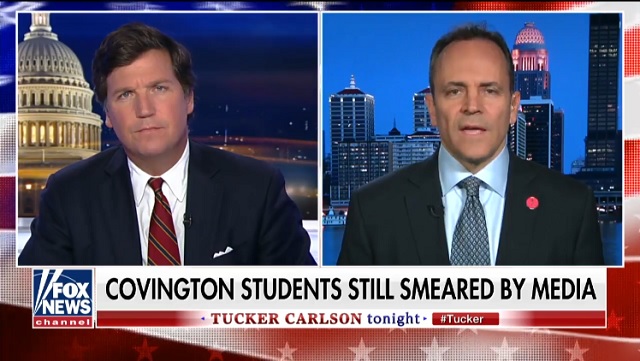 Kentucky Governor Matt Bevin delivered an impassioned defense of the students of Covington Catholic High School Wednesday on Tucker Carlson Tonight and slammed the media and left for their "incredible amount of bigotry."

"The level of bigotry that was evident throughout this came from one side entirely and it was twofold," Bevin said. "It came in the moments prior to the little snippets that set people into a tizzy when there was true racial bigotry shown by people that were with the fellow drumming, when they told people to go back to Europe -- that this wasn't their country. Also, preceding even that as people were yelling some incredibly vile and racist things at these teenaged students."



"None of that was covered," Bevin said. "That was the only true racism and bigotry that was evident on that day."

He continued: "Since that time, there has been an incredible amount of bigotry shown by the media. The people who took this and ran with it, who didn't verify anything, the people who made assumptions about these kids because of their color, because of their gender, because of their faith, because of where they lived, because of the hat that they were wearing."

"People didn't bother to do the basic checking of facts -- that anybody who was worth their salt in the media should have and would have done -- because this fit the narrative and the stereotype and the bigotry that they wanted so desperately to be able to run with and I find it offensive that people have insulted these students as they did."

"There are none so intolerant than those who preach tolerance," Bevin said.



Tucker Carlson also opened his show with a similarly epic monologue:



Follow InformationLiberation on Twitter, Facebook, Gab and Minds.