CNN's King: Should Mike Pence's Wife Be Denied Secret Service Protection For Being Christian?
Chris Menahan
InformationLiberation
Jan. 18, 2019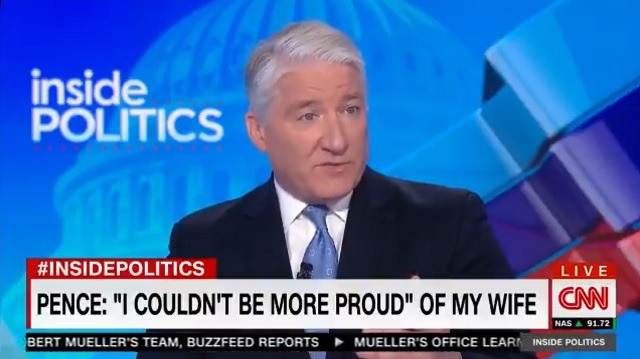 This has to be one of the funniest interactions ever seen on CNN.


It's only 30 seconds, watch it before reading this summation!

From The Hill:

CNN anchor John King asked on Friday if it matters that taxpayer dollars are being used to pay for Karen Pence's housing and Secret Service protection if the vice president's wife is teaching at a private school that seeks to exclude LGBTQ students and staff members.

"Does it matter all taxpayers pay for her housing? All taxpayers pay for her Secret Service protection? It's not her fault she needs protection, this is the world we live in. But all taxpayers subsidize her life. Does it matter?" asked King, who anchors "Inside Politics."

"So you mean does her First Amendment freedoms get somehow curtailed because taxpayers pay for her accommodations and security? I don't know that a lot of people would sign on to that," SiriusXM reporter and White House Correspondents Association president Oliver Knox said.
Perfect delivery, Mr. Knox!

Follow InformationLiberation on Twitter, Facebook, Gab and Minds.