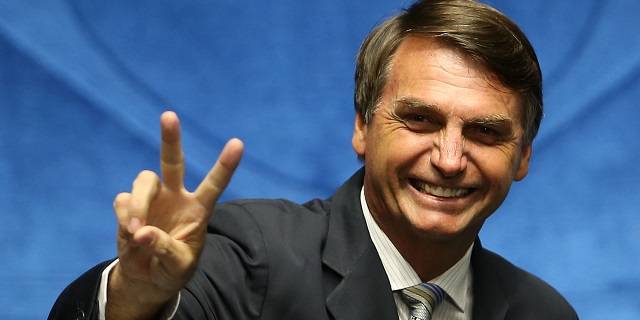 It's happening!

From The Daily Caller:

Former Brazilian Army captain Jair Bolsonaro was sworn in Tuesday as the president of Brazil and received a prompt congratulations from U.S. President Donald Trump, with whom Bolosonaro is often compared.

"I will work tirelessly so that Brazil reaches its destiny," the new president said at his swearing-in ceremony in front of Brazil's Congress. "My vow is to strengthen Brazil's democracy."

Bolsonaro, 63, is often referred to by the media as the "Trump of the Tropics," not only for his provocative statements on issues ranging from gun laws to abortion and immigration, but also for his ability to reach a similar base of Brazilians as Trump did Americans.


"Congratulations to President [Bolsonaro] who just made a great inauguration speech," Trump wrote on Twitter. "[…] the U.S.A. is with you!"


[...]The Social Liberal Party candidate and former longtime congressman replied to Trump's congratulations, saying, "Together, under God's protection, we shall bring prosperity and progress to our people!"
AFP reported Monday: "On [Bolsonaro's] Twitter account -- his preferred communication channel along with his Facebook page -- the former paratrooper has announced he will issue a decree immediately easing gun laws, and will work to 'fight the Marxist trash' he believes is being taught in classrooms."

Note they say, "he believes." The schools teaching transgenderism and homosexuality to school kids is apparently all in his mind!



Here's some of his speech from The Guardian (the media has seemingly refused to translate it to English):

In a brief speech to the chamber of deputies, Bolsonaro thanked God for surviving from a near-fatal knife attack during the election campaign and invited lawmakers to help Brazil free itself from "corruption, criminality and economic irrresponsibility and ideological submission".

"We have a unique opportunity before us to reconstruct our country and rescue the hope of our compatriots," he said. "We are going to unite the people, rescue the family, respect religions and our Judeo-Christian tradition, combat genre ideology, conserving our values."

He also referred to campaign promises such as freeing up gun possession. "Good citizens deserve the means to defend themselves," he said. Bolsonaro said he was counting on Congress support to provide "legal support" for police to do their work; he has promised impunity for police who kill criminals. "They deserve it and must be respected," he said.
On Medium, Jonathan Cormier shared what he called a "rough translation" on his speech:

This moment is priceless. To serve my Homeland as Chief Executive. And all this only possible because God protected my life. And you all believed in me. Together we have to make Brazil occupy the place of respect that it deserves in the world and bring peace and prosperity to our people.

It is with humility and honor that I dictate to you all as President of Brazil. And I find myself before all of the Nation, on this day, a day that the people began to liberate themselves from socialism, to liberate themselves from the perversion of values, from the overly large state and from political correctness.

The elections gave a voice to who was not being heard. And the voice of the roads and of the streets was very clear. And I am here to respond, and, one more time, I promise, I desire this change. In addition, I am here to rebuild our hopes and to remind us that, if we work together, this change will be possible.

Respecting the principles of our Democratic State, guided by our Constitution and with God in our Hearts, beginning today we're going to put into practice the plan that the majority of the Brazilian people democratically chose.

We're going to make the changes that our Country needs. We have abundant rare minerals, fertile lands, blessings from God and a damn wonderful population. We have a great nation to reconstruct and we're going to do it together.

The first steps already have been made. Thanks to you all I was elected after running the least expensive campaign in history.

Thanks to you all, we can strive to run a government without bribes or political favors, we can form a team of ministers and capable people to transform our Brazil. However, there are many challenges ahead.

We can not let deviant ideologies come in and divide the Brazilian people. Ideologies that destroy our values and traditions, destroy our families, threaten our very society.

And we invite all of those who are on our side to join with us in a movement towards this end.

We can, me and you and our families, all together, re-establish ethical standards and morals that will transform our Brazil.

The corruption, the political privileges, and the special advantages need to end. The divisive politicized favors must stay in the past, so that the Government and the economy serve truly all of the Nation.

All that is what we will propose and we will begin now, having a Mission that is both natural and non-negotiable: the interests of the Brazilian people are the primary concern.

The Brazilian can and must dream. To dream of a better life, with better conditions to spend the fruits of their labor through a meritocracy. And for the government to be honest and efficient.

Supporting and smoothing that path will bring us to a better future, although inevitably we will hit rocks and bumps.

With this Mission, we start our journey. With this spirit and determination, with all of the branches of government united, on this day, today.

We have the greatest challenge to confront: the effects of the economic crisis, the record levels of unemployment, the indoctrination of our children, the disregard for human rights and the destruction of the family.

We are going to propose and implement the necessary changes. We are going to improve infrastructure, reduce bureaucracy, simplify, remove the lack of trust and lift the weight of the Government off of those who work and produce.

In addition, it is urgent to end the ideology of defending gangsters and criminalizing police, that left Brazil to suffer increased incidents of violence and rampant organized crime, which takes the lives of innocents, destroys families, and brings danger to all places.

Our concern will be the safety of the people as well as the guarantee of the right to self-defense, and our promise is to encourage and respect the work of all of those who protect the public's safety.

For the first time, Brazil is going to prioritize basic education, which is what truly can transform the present and make the future for our children.

We have to reflect on the nations that are examples for the world, which, through education, found the way to prosperity.

We are going to lift the ideological bias from our international relations.

We are going to search for a new era for Brazil and for the Brazilian people!

For too long, the Country was governed by specific interests, that are not that of the Brazilian people. We are going to re-establish order in this Country.

We know the size of our responsibility and the many challenges we will face. But we know where we want to arrive and the potential that our Brazil has. To do this, we're going to, day and night, pursue the objective of turning our Country into a prosperous place, safe for our citizens and one of the greatest nations on Earth.

You can count on my total dedication to build the Brazil of our dreams.

I beg God to keep me alive, for all of you to hear me and for my strength in the most difficult moments.

I ask the good Lord that he gives us wisdom to maintain the Nation.
May God bless this great Nation.

Brazil above all. God above everything.

This is our flag, and it will never be red. The only way it will ever be red is if it needs our blood in order to keep it green and yellow.
2019 is off to a good start!

Follow InformationLiberation on Twitter, Facebook, Gab and Minds.