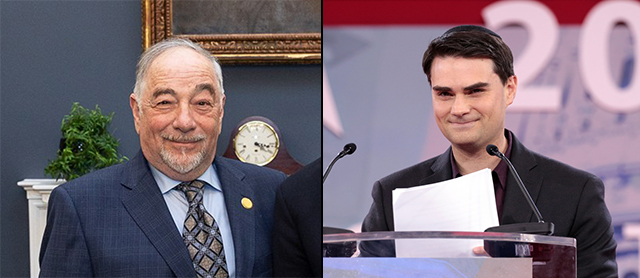 Michael Savage, America's second most popular radio host, appears to be on the brink of being taken off the air entirely and replaced by NeverTrump neocon Ben Shapiro.

Even though Ben Shapiro has been wrong on every issue and his voice is physically painful to listen to, he consistently pushes a neocon agenda and is being rewarded handsomely for it.

From Washington Times, "Michael Savage being silenced by 'corporate censorship,' attorney says":

The voice of New York, come Jan. 7, may be no more.

That's because WABC, one of the city's premiere, preeminent stations, is poised to boot Michael Savage — to deplatform him, in broadcast-speak, said his attorney, Daniel Horowitz, in a telephone interview.

[...]According to Horowitz, who said he's seen "the emails back and forth" between his client, Savage, and the radio powers-who-be, "The Savage Nation" is actually poised to go dark on WABC on Jan. 7.
Why they want to take Savage off the air.
And not just on WABC: Horowitz said media powerhouses in Los Angeles, Chicago and Washington, D.C., are all giving the boot to Savage, as well.

[...]In late 2017, Talk Stream Live listed Savage, with 14.8 million listeners, as the second most-listened to top talk radio voice in the nation, behind only Rush Limbaugh's 16.5 million listeners — but far ahead of third place Laura Ingraham's 6.8 million.

[...]Radio Insight reported in September that Westwood One was "shaking up its weekday afternoon Conservative Talk block" and that "Ben Shapiro To Go National As Michael Savage Cuts Back To One Hour." The release went on to note that Cumulus just "launched Ben Shapiro on six stations in April including a live clearance on 770 WABC New York and delayed clearances on WMAL Washington DC, WLS Chicago, WYAY Atlanta and KABC Los Angeles."
Ben Shapiro is the establishment's best hope for putting the nationalist genie back in the bottle.

While every anti-establishment voice is being censored, demonetized and deplatformed, Ben Shapiro is being pushed by Google/YouTube's algorithms, given his own show on Fox News and handed Michael Savage's radio show.

Follow InformationLiberation on Twitter, Facebook, Gab and Minds.