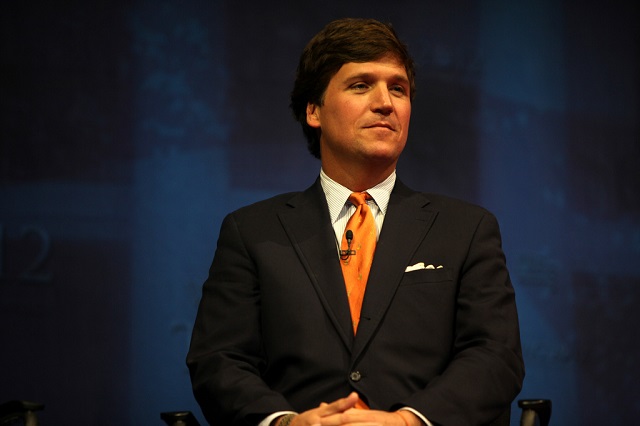 Fox News host Tucker Carlson called it like he sees it in an excellent interview with the Swiss Weekly Die Weltwoche on Tuesday.

From Die Weltwoche:

In your book you speak a lot about people who attack Trump, but you actually don't say very much about Trump's record.

That's true.

Do you think he has kept his promises? Has he achieved his goals?

No.

He hasn't?

No. His chief promises were that he would build the wall, de-fund planned parenthood, and repeal Obamacare, and he hasn't done any of those things. There are a lot of reasons for that, but since I finished writing the book, I've come to believe that Trump's role is not as a conventional president who promises to get certain things achieved to the Congress and then does. I don't think he's capable. I don't think he's capable of sustained focus. I don't think he understands the system. I don't think the Congress is on his side. I don't think his own agencies support him. He's not going to do that.

I think Trump's role is to begin the conversation about what actually matters. We were not having any conversation about immigration before Trump arrived in Washington. People were bothered about it in different places in the country. It's a huge country, but that was not a staple of political debate at all. Trump asked basic questions like' "Why don't our borders work?" "Why should we sign a trade agreement and let the other side cheat?" Or my favorite of all, "What's the point of NATO?" The point of NATO was to keep the Soviets from invading western Europe but they haven't existed in 27 years, so what is the point? These are obvious questions that no one could answer.

Apart from asking these very important questions has he really achieved nothing?

Not much. Not much. Much less than he should have. I've come to believe he's not capable of it.

Why should he be not capable?

Because the legislative process in this country by design is highly complex, and it's designed to be complex as a way of diffusing power, of course, because the people who framed our Constitution, founded our country, were worried about concentrations of power. They balanced it among the three branches as you know and they made it very hard to make legislation. In order to do it you really have to understand how it works and you have to be very focused on getting it done, and he knows very little about the legislative process, hasn't learned anything, hasn't and surrounded himself with people that can get it done, hasn't done all the things you need to do so. It's mostly his fault that he hasn't achieved those things. I'm not in charge of Trump.

[...]You write about vanishing middle class. When you were born over 60 % of Americans ranked middle class. Why and when did it disappear?

If you make above a certain income, or if you live in my neighborhood, you have zero physical contact with other Americans. In other words, the elite in our country is physically separated in a way that's very unhealthy for a democracy, very unhealthy.

The Democratic Party is out of touch with the working class.

Well, that's the remarkable thing. For 100 years the Democratic Party represented wage earners, working people, normal people, middle class people, then somewhere around-- In precisely peg it to Clinton's second term in the tech boom in the Bay Area in Francisco and Silicon Valley, the Democratic Party reoriented and became the party of technology, of large corporations, and of the rich. You've really seen that change in the last 20 years where in the top 10 richest zip codes in the United States, 9 of them in the last election just went for Democrats. Out of the top 50, 42 went for Democrats. The Democratic Party, which for 100 years was the party of average people is now the party of the rich.

Donald Trump, who is often seen as this world-changing figure is actually a symptom of something that precedes him that I sometimes wonder if he even understands which is this realignment. He served the purpose of bringing the middle class into the Republican Party, which had zero interest, no interest in representing them at all. Trump intuitive, he felt, he could smell that there was this large group of voters who had no one representing them and he brought them to the Republican side, but the realignment is still ongoing.

In other words, the Democratic Party used to represent the middle class, it no longer does, it now hates the middle class. The Republican Party which has never represented the middle class doesn't want to. That is the source of really all the confusion and the tension that you're seeing now. I do think, going forward the Republican Party will wake up and realize these are our voters and we're going to represent them whether we want it or not.

They have to, or they will lose.

They have to, or they will die. Yes.
The media, of course, took his comments completely out of context, but the full interview is well worth the read.

I personally think Trump wanted to bring in radical change but the system beat him down. Michael Flynn had the potential to be the best National Security Advisor of all time but he was spied on and sabotaged by the CIA/FBI.




The Republican Party similarly sabotaged and derailed Trump's entire legislative agenda by getting him to go along with their Koch brothers "tax cuts" scheme -- which put huge amounts of money in the coffers of his and our enemies.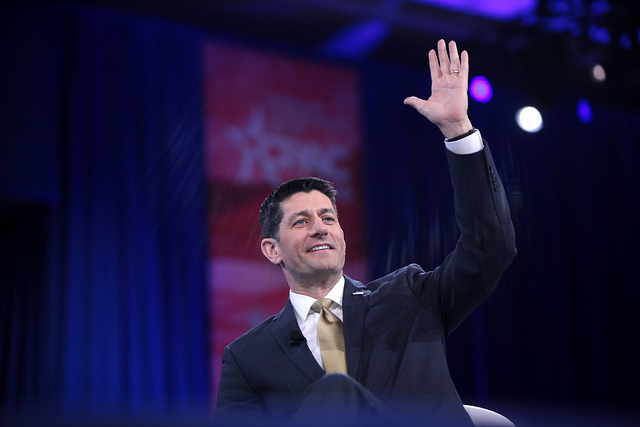 They also hit him with a terrible omnibus bill which banned funding of the wall and pretty much boxed him into signing it -- just as nearly the entire congress boxed him into signing off on a host of new sanctions against Russia.

This horrendous system wasn't created overnight and it can't be fixed overnight. Trump's managed to clear out a lot of the worst scumbags and traitors in our government -- like Paul Ryan. He's also managed to successfully discredit the media and make it clear to half the country that the entire Hollywood apparatus and entertainment industry are nothing more than shills for our parasitic elites.


If it wasn't for Trump, we likely wouldn't have Tucker on prime time at Fox News. We'd probably still be stuck with Bill O'Reilly!

Follow InformationLiberation on Twitter, Facebook, Gab and Minds.