Oprah Cites History Of 'Lynchings' As Reason to Vote Democrat
Chris Menahan
InformationLiberation
Nov. 02, 2018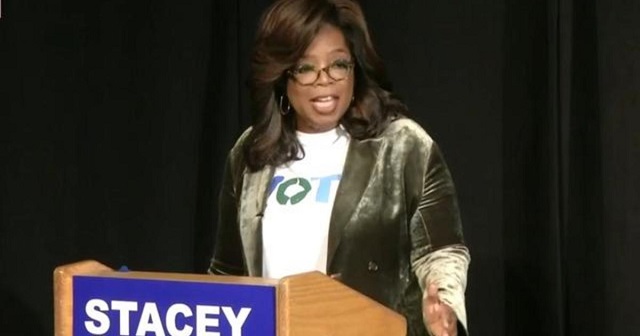 From Breitbart, "Oprah Invokes Lynching, Oppression in Campaign Speech for Stacey Abrams":

In a Thursday speech in the Republican-leaning suburbs of Atlanta, Georgia, Oprah Winfrey urged voters to make history by backing Democratic gubernatorial candidate Stacey Abrams in next week's election, saying she refuses to allow the sacrifices of those who were "lynched" and "oppressed" to be "in vain."

Abrams is locked in a tight race with her Republican rival, Georgia secretary of state Brian Kemp, as she tries to become the nation's first black female governor.


Oprah Winfrey praised Abrams as a "change-maker" who represents the values of all Georgians. The talk show icon, who rarely makes political endorsements, drew cheers when she said she's a registered independent who was not in Georgia at anyone's request.

"I paid to come here myself, and I approved this message," Winfrey said, explaining that she tracked down Abrams' cell phone number and called her to say she wanted to offer assistance in the final days of the campaign.

"I'm here today because of the men and because of the women who were lynched, who were humiliated, who were discriminated against, who were suppressed, who were repressed and oppressed," Winfrey told attendees at the Cobb Civic Center Jennie T. Anderson Theatre. "I refuse to let their sacrifices be in vain."
Oprah's whole speech was pure identity politics from beginning to end:



According to our fake news media, it's "racist" for Trump to share an ad showing an illegal alien celebrating his murder of two cops but saintly for Oprah to evoke fears of "lynchings" and "oppression."


If you're wondering what Oprah means by ending "oppression" this classic clip from 2013 might give you a clue:



Follow InformationLiberation on Twitter, Facebook, Gab and Minds.