The synagogue shooter has reportedly been identified as 48-year-old Robert Bowers and his social media profile, which was filled with antisemitic and anti-Trump posts, appear to show he announced he was going to carry out an attack right before it took place.

From KDKA:

PITTSBURGH (KDKA) – Eight people have been killed and a number of others injured after a shooting situation at The Tree of Life Synagogue in Squirrel Hill on Saturday.

KDKA's Meghan Schiller reports that a suspect, a heavy-set white male with a beard, has surrendered. The SWAT team had been talking with the suspect, and he was crawling and injured. It is unclear the extent of his injuries.

KDKA sources confirm to Andy Sheehan that the suspect is 48-year-old Robert Bowers. It is believed that he acted alone.
Police are also investigating if he announced his intentions on Twitter this morning. That account has since been taken down.

Pittsburgh Police spokesman Chris Togneri confirmed that the suspect was in custody and three police officers had been shot. He also confirmed multiple causalities, but did not divulge exactly how many.

Police sources tell KDKA's Andy Sheehan the gunman walked into the building and yelled, "All Jews must die." Sheehan's sources confirmed that eight people were dead. Others had been shot, but the extent of their injuries in unknown at this time.
Here's more of his social media profile on Gab via Zero Hedge:

While police have yet to confirm the identity of the suspect, who was identified at the scene as 46-year-old Robert Bowers, images of a suspected social media account that may belong to Bowers have surfaced, and as one might imagine, they are replete with anti-semitic rhetoric.

While police haven't confirmed the veracity of the acount, the likelihood of there being two 46-year-old anti-semites from Pittsburgh named Robert Bowers seems like...a stretch.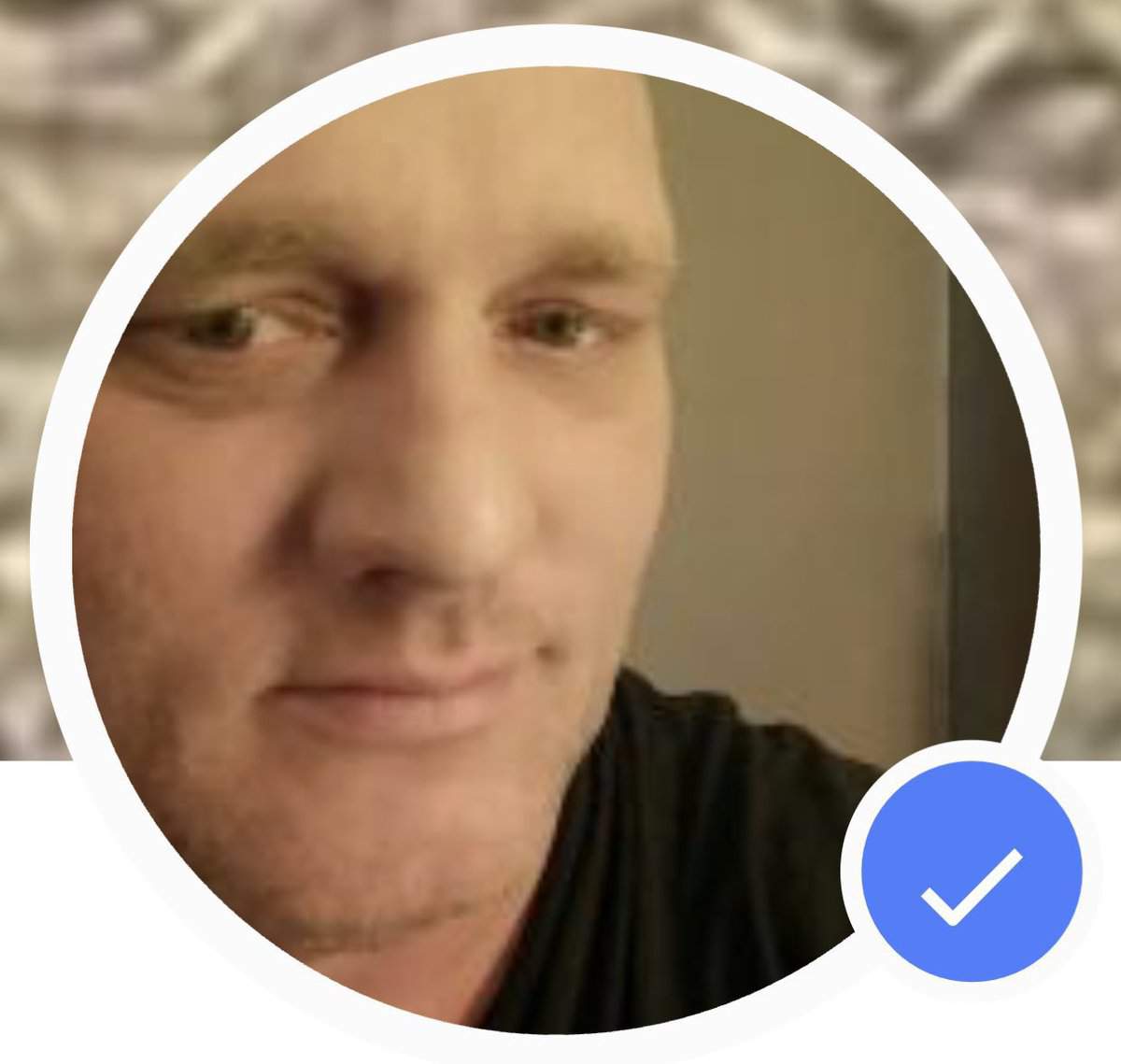 Shortly before the incident began, a man believed to be the shooter posted "screw your optics, I'm going in" on his gab account, suggesting that he needed to act before a Jewish organization brought in more refugees...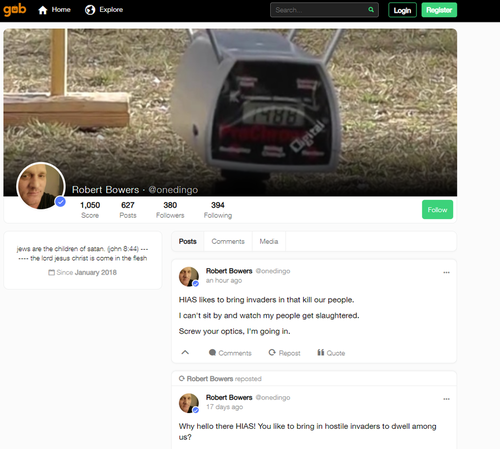 ...Notably, the man said he didn't vote for President Trump...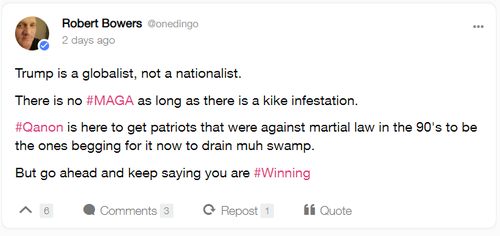 ...and that he never owned a MAGA hat...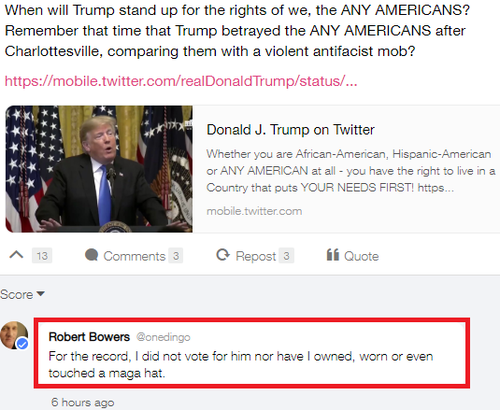 ...the account-holder posted pictures of his guns...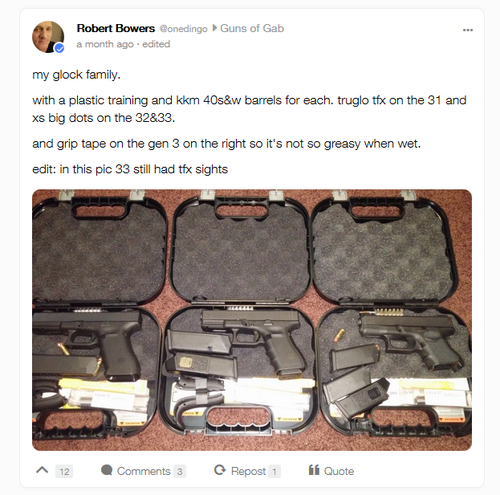 ...He also accused Trump of being a "globalist"...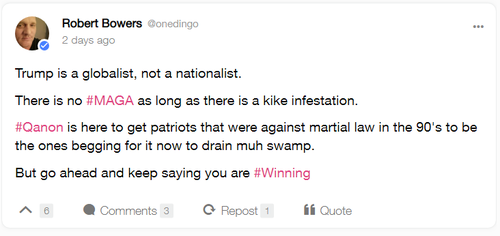 ...Oddly, his gab account was last archived 14 hours ago...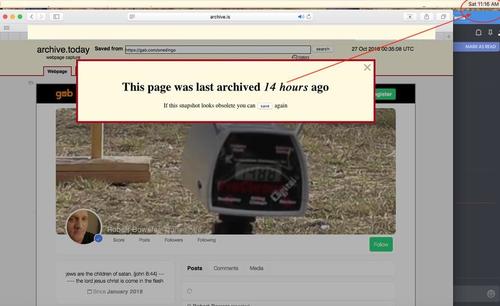 ...which suggests whoever archived it wanted people to see the posts...

...As one twitter user pointed out, the shooter is a nazi terrorist who hated Trump...


Many of his posts were archived here:


That post does not contain all of his history. I viewed it before it was deleted after it was posted on Twitter but lost it after clicking one of the posts and getting a 404 error. Nonetheless, I remember his first post was 3 months ago and also noticed how he posted pictures of his guns. Quite frankly, it looked to me like someone creating a paper trail.

As Zero Hedge noted, his page was archived using Archive.is before the shooting and before his last post which implied he was about to carry the shooting out.


The timing of these attacks happening right before midterms is awfully strange. Now, instead of discussing actual policy issues it's just going to be constant fake news demonizing all Trump supporters as "Nazi terrorists" and President Trump as a terrorist enabler (facts be damned).

Hopefully, people will see through the propaganda and it won't work.

President Trump addressed the shooting this afternoon and said he thought it could have been different if the victims had armed protection.

From NBC News:

"They had a maniac walk in and they didn't have any protection and that is so sad to see," Trump said at Joint Base Andrews in the Maryland suburbs before he departed for a campaign swing in the Midwest. "If you take a look at it, if they had protection inside the results would have been far better."

[...]"It's a terrible, terrible thing what's going on with hate in our country, frankly, and all over the world," the president said. "It's a violent world. You think when you're over it, it just goes away but then it comes back in the form of a madman, a wacko."

[...]"I think they should stiffen up laws, and I think they should very much bring the death penalty into vogue," he said.

Asked about his close relationship with the National Rifle Association, Trump emphasized his view that having armed guards at the temple might have made a difference — and said it might be necessary to have them at all houses of worship in the United States.

"I hate to think of it that way," he said. "It's certainly an option."
WATCH:



Follow InformationLiberation on Twitter, Facebook, Gab and Minds.