Masked Antifa Mob Attacks Patriot Prayer, Proud Boys At 'Law And Order' March in Portland
Chris Menahan
InformationLiberation
Oct. 15, 2018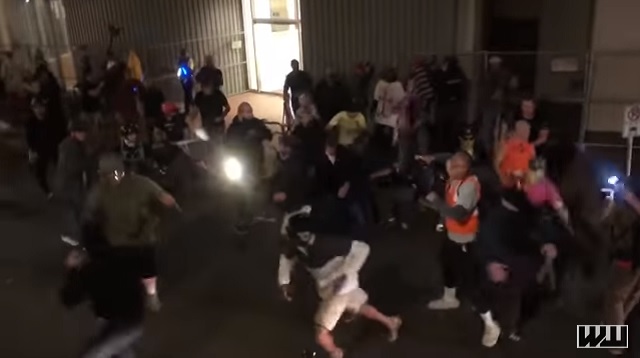 A masked antifa mob was filmed attacking a "Law and Order" march in Portland by Patriot Prayer and Proud Boys on Saturday night.

As usual, antifa was caught initiating the violence after burning an American flag:


Freelance journalist Mike Bivins caught what he said was the first confrontation on film, which was antifa pepper-spraying Proud Boys and Patriot Prayer "after some posturing between the two."


Outlets like The Oregonian deceptively showed this video first to give the false impression the Patriot Prayer group and Proud Boys may have started the violence:



Ruptly's video showed some of the rally:



Antifa was clearly trying to bust up their march and block their path:



Portland Police said Sunday they made no arrests:


After antifa was filmed attacking motorists last week as Portland Police stood by doing nothing, Portland Mayor Ted Wheeler said Friday he stands by the police's decision not to intervene.

"I was appalled by what I saw in the video, but I support the Portland Police Bureau's decision not to intervene," Wheeler said during a press conference. "This whole incident will be investigated."




This is what Democrats want for every city in America.



Republicans need to show up in force for the midterms and make it clear they will not accept their country being run by unhinged leftist mobs.

Follow InformationLiberation on Twitter, Facebook, Gab and Minds.