'No Hint of Misconduct' Found in FBI Kavanaugh Probe: Senate Judiciary Chair
Chris Menahan
InformationLiberation
Oct. 04, 2018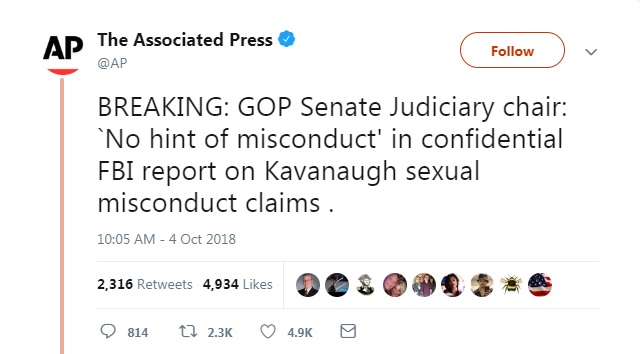 Good news: the FBI did not manage to frame Judge Brett Kavanaugh and the Democrats did not manage to drum up any new accusers willing to risk perjury charges to further tarnish Kavanaugh's good name.

From AP:

A top Senate Republican said Thursday the confidential FBI report on charges that Brett Kavanaugh sexually abused women three decades ago "found no hint of misconduct" by the Supreme Court nominee.

Senate Judiciary Committee Chairman Chuck Grassley, R-Iowa, made his remarks -- and urged his colleagues to confirm the conservative judge -- in a written statement hours after the post-midnight delivery of the FBI document to Congress. With Kavanaugh's uncertain prospects for approval depending in part on the decisions of five wavering senators, lawmakers began viewing the document in a secure room in the Capitol complex.

"There's nothing in it that we didn't already know," Grassley contended, basing his comment on a briefing he said he'd received from committee aides. He added, "This investigation found no hint of misconduct."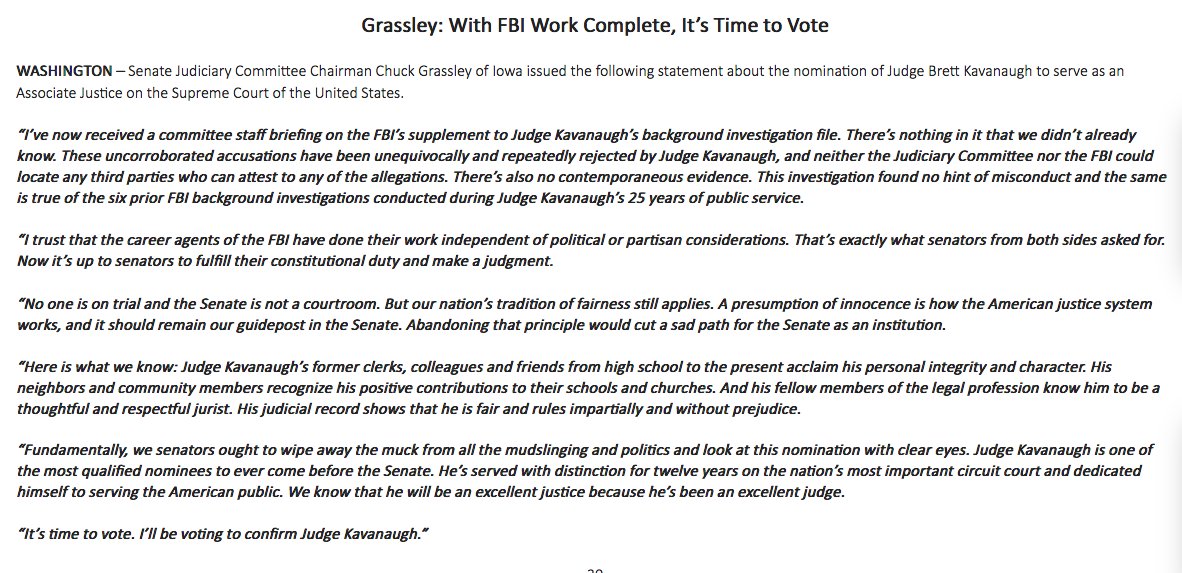 Democrats have complained that the FBI's reopening of its Kavanaugh background check has been far too limited, leaving out contact with crucial potential witnesses. They say some people had reached out to be interviewed by the FBI or the Judiciary Committee but were not questioned.

White House spokesman Raj Shah rebuffed that idea, saying, "What critics want is a never-ending fishing expedition into high school drinking." He said the FBI reached out to 10 people and interviewed nine, including "several individuals at the request of the Senate, and had a series of follow-up interviews ... following certain leads."

[...]Grassley said the FBI could not "locate any third parties who can attest to any of the allegations," and he said there is "no contemporaneous evidence." He provided no specific detail.
All the evidence -- from start to finish -- vindicated Kavanaugh on all fronts.

Rather than give in like a whipped dog he fought back like hell on behalf of himself, his family and our country.

This man unquestionably deserves to be on the Supreme Court. All the senators who oppose him need to be thrown out of office.

Appoint him immediately and launch perjury investigations into his accusers.





Follow InformationLiberation on Twitter, Facebook, Gab and Minds.