Kavanaugh Accuser Julie Swetnick Used Ford's Attorney Debra Katz's Firm to Get 'Sexual Harassment' Settlement
Chris Menahan
InformationLiberation
Sep. 27, 2018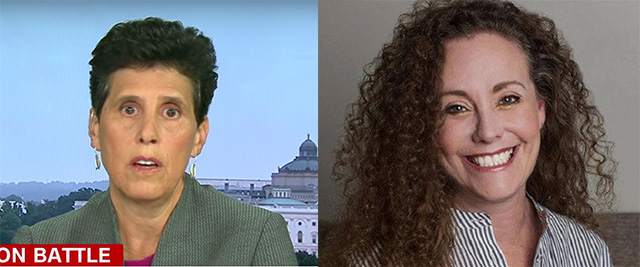 Christine Blasey Ford's high-powered Democrat activist lawyer Debra Katz worked together with Michael Avenatti's new client Julie Swetnick in the past to extract a settlement for "sexual harassment" from her former employer, according to a shocking report from the Wall Street Journal.


From WSJ:

Roughly a decade ago, Ms. Swetnick was involved in a dispute with her former employer, New York Life Insurance Co., over a sexual-harassment complaint she filed, according to people familiar with the matter. Representing her in the complaint was the firm run by Debra Katz, the lawyer currently representing Dr. Ford. The company ultimately reached a financial settlement with Ms. Swetnick, the people said.

A spokesman for New York Life confirmed that Ms. Swetnick worked there as an agent for less than two years, from 2006 to 2008. She didn't list her work there on a résumé posted online.

A spokeswoman for Ms. Katz declined to comment.
As The Daily Caller has reported, Katz sided with Bill Clinton and Al Franken during their sexual misconduct scandals.

Katz was filmed at an anti-Trump rally in 2017 saying, "We are going to resist."



The Federalist's Mollie Hemingway laid out just how crazy Julie Swetnick's claims against Brett Kavanaugh are Wednesday on Tucker Carlson Tonight.

"This woman is alleging that while she was an adult she attended parties that were hosted by children where other children were raped by the minors in attendance," Hemingway said. "She asserts, by her own claim, that she attended ten of these parties, that she witnessed these gang rapes, and that she continued to go to them -- doing nothing -- while she was an adult and these children were engaged in this behavior."



"I find it a little difficult to believe that story on its face," she said.

"As you know, many people in the media are taking it very seriously," Hemingway said. "They think it's very real that Judge Kavanaugh was the leader of a child gang rape cartel that somehow managed to not be discovered until four days before he was about to be confirmed on the Supreme Court."

"That is something I think most journalists should be a little more skeptical of," she said, "they should have natural skepticism."

Follow InformationLiberation on Twitter, Facebook, Gab and Minds.