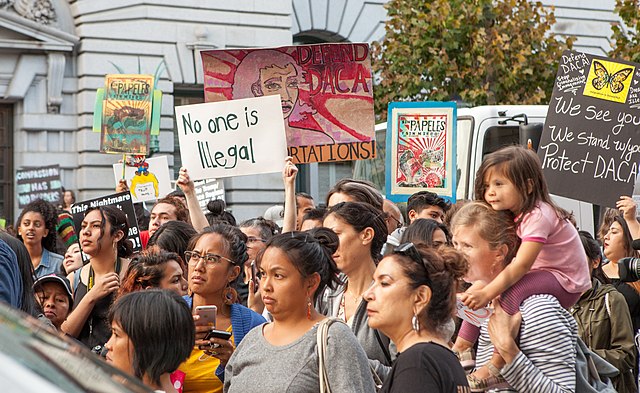 The illegal alien population in America is estimated to be larger than the entire population of New York (20 million) or Florida (21 million), according to a shocking new study from Yale.

From Yale.edu:

Immigration is the focus of fierce political and policy debate in the United States. Among the most contentious issues is how the country should address undocumented immigrants. Like a tornado that won't dissipate, arguments have spun around and around for years. At the center lies a fairly stable and largely unquestioned number: 11.3 million undocumented immigrants residing in the U.S. But a paper by three Yale-affiliated researchers suggests all the perceptions and arguments based on that number may have a faulty foundation; the actual population of undocumented immigrants residing in the country is much larger than that, perhaps twice as high, and has been underestimated for decades.

Using mathematical modeling on a range of demographic and immigration operations data, the researchers estimate there are 22.1 million undocumented immigrants in the United States. Even using parameters intentionally aimed at producing an extremely conservative estimate, they found a population of 16.7 million undocumented immigrants.†

Read the study:†The Number of Undocumented Immigrants in the United States: Estimates Based on Demographic Modeling with Data from 1990 to 2016†

The results, published in PLOS ONE, surprised the authors themselves. They started with the extremely conservative model and expected the results to be well below 11.3 million.†

"Our original idea was just to do a sanity check on the existing number," says Edward Kaplan, the William N. and Marie A. Beach Professor of Operations Research at the Yale School of Management. "Instead of a number which was smaller, we got a number that was 50% higher. That caused us to scratch our heads."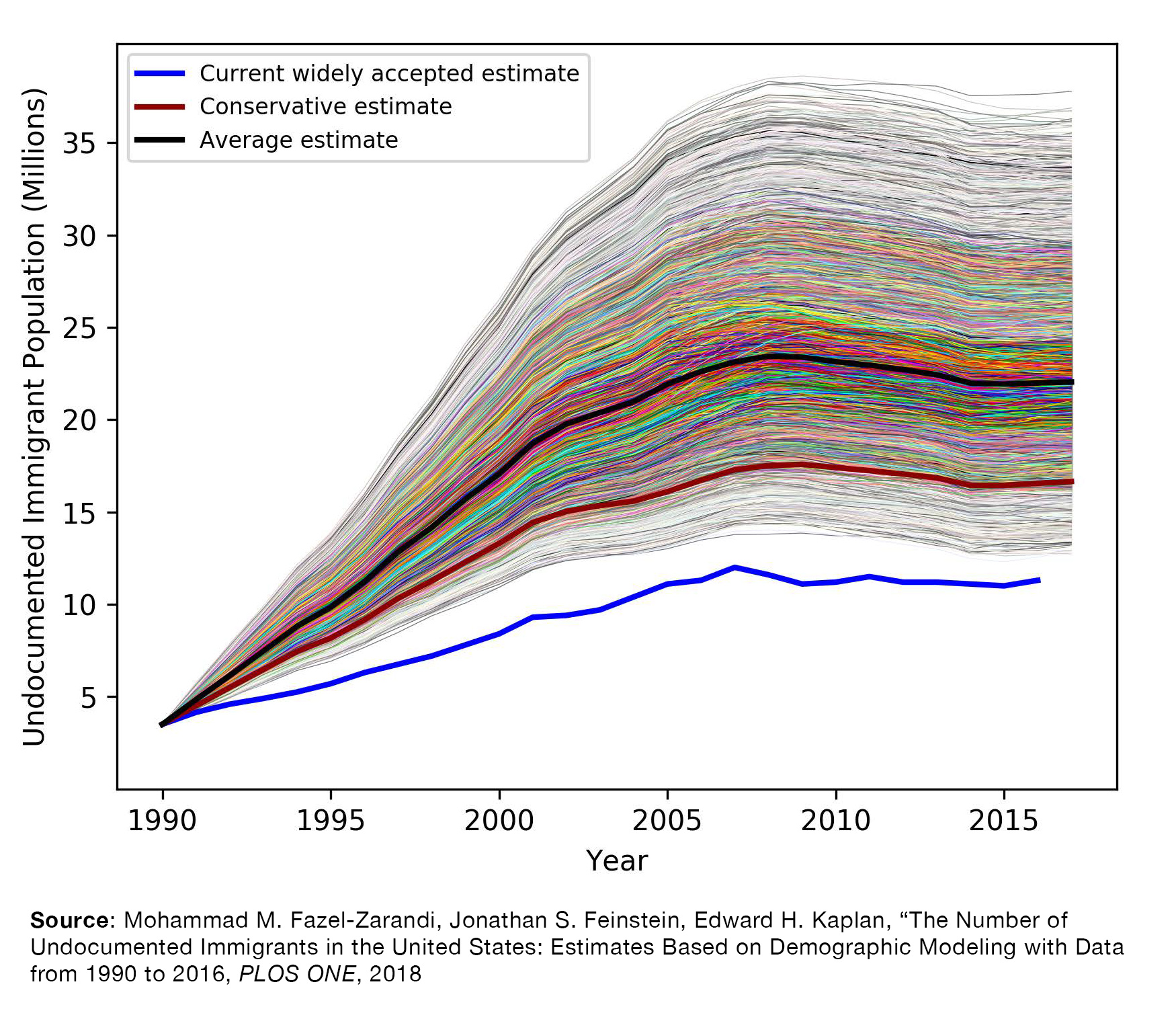 Jonathan Feinstein, the John G. Searle Professor of Economics and Management at Yale SOM, adds, "There's a number that everybody quotes, but when you actually dig down and say, 'What is it based on?' You find it's based on one very specific survey and possibly an approach that has some difficulties. So we went in and just took a very different approach."

The 11.3 million number is extrapolated from the Census Bureau's annual American Community Survey. "It's been the only method used for the last three decades," says Mohammad Fazel-źZarandi, a senior lecturer at the MIT Sloan School of Management and formerly a postdoctoral associate and lecturer in operations at the Yale School of Management. That made the researchers curious--could they reproduce the number using a different methodology?

The approach in the new research was based on operational data, such as deportations and visa overstays, and demographic data, including death rates and immigration rates. "We combined these data using a demographic model that follows a very simple logic," Kaplan says. "The population today is equal to the initial population plus everyone who came in minus everyone who went out. It's that simple."

While the logic is simple--tally the inflows and outflows over time--actually gathering, assessing, and inserting the data appropriately into a mathematical model isn't at all simple. Because there is significant uncertainty, the results are presented as a range. After running 1,000,000 simulations of the model, the researchers' 95% probability range is 16 million to 29 million, with 22.1 million as the mean.
As Rep. Mo Brooks told Breitbart earlier this month, states like California and New York are getting more congressional seats and electoral college votes due to their large illegal alien populations.

From Breitbart:

Weíre probably in the neighborhood of about 15 million illegal aliens in America now. 15 million comes out to roughly 20 congressional seats and 20 electoral college votes. Each congressional seat has roughly 700,000 to 800,000 people in it.

So, if you count illegal aliens in the Census for the purposes of distributing political power, thatís the number of congressmen per state or Ö the number of electoral college votes per state, youíre talking about Ö 20 electoral college votes and congressmen that are taken from states that follow our laws, that help our border patrol agents, and help our ICE agents Ö shifting those 20 congressional seats and 20 electoral college seats to states like California that have large numbers of illegal aliens in them.

I personally believe thatís wrong, on a policy level, but I also believe it violates the Equal Protection clause of the 14th Amendment to the United States Constitution because it dilutes the voting power of citizens who live in states that donít harbor an enormous number of illegal aliens.
The real number could be double Brooks' estimate.



Follow InformationLiberation on Twitter, Facebook, Gab and Minds.