'The Daily Blast Live' Host Scolds Co-Host Over His 'White Privilege,' Producers Purge Clip From Web
"You are the living embodiment of white privilege. You have no business on this panel with us, but you're here because of your privilege."
Chris Menahan
InformationLiberation
Sep. 13, 2018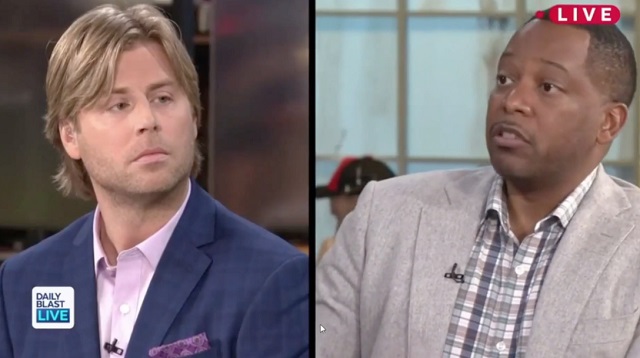 The producers of "The Daily Blast Live" do not want viewers to see this clip of host Al Jackson berating fellow co-host Beau Davidson for being a white male.

From Mediaite:

Co-hosts on the set of The Daily Blast Live exchanged heated semi-friendly fire Wednesday in a brutally personal debate over white privilege, following the publication of a racially-charged caricature of Serena Williams.

[...]"A white male can never understand what marginalized people feel and think and absolutely cannot tell them what to think and feel," Jackson said. "I know that you think that Trump has been lampooned in cartoons, and what I'll say to that is this: People don't believe in white privilege. They don't think that it's a thing."
[...]"I have a master's in biomedical sciences," Jackson said. "I have over 200 TV appearances. You are the living embodiment of white privilege. You have no business on this panel with us, but you're here because of your privilege. I have hundreds of black people, brown people in my phone that are more qualified, have done more in their career to deserve to be in that seat, but you sit there because of your white privilege."

Defending himself, Davidson shot back with "I've had to fight for everything in my life," adding that "when you look at somebody you don't know what they're going through. You have no idea what I've been through."
Jackson went on to say how oppressed he was because he watched "racist cartoons" as a child.

Jackson's freak-out continued with him telling Davidson: "I don't want to talk to you because I don't want to normalize you and your hate speech. Me working with you will be the biggest regret of my career."

The Daily Blast Live went around filing DMCA takedown notices against everyone who shared the newsworthy clip.


Follow InformationLiberation on Twitter, Facebook, Gab and Minds.