Theresa May Dances On The Graves of Murdered Boers in South Africa
Chris Menahan
InformationLiberation
Aug. 28, 2018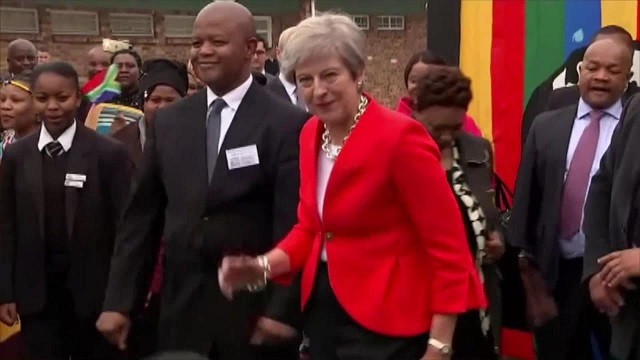 British Prime Minister Theresa May defended the "democratic" expropriation of white farmers land during her visit to South Africa on Tuesday and went dancing in Cape Town in a shockingly out of touch display.



"The UK has for some time now supported land reform that is legal and transparent and generated through a democratic process. I discussed it with President Ramaphosa during his visit to Britain earlier this year and will discuss it with him again later today," May told guests of the British High Commission in Cape Town before meeting President Cyril Ramaphosa.

"I welcome the comments that President Ramaphosa has already made, bearing in mind the economic and social aspects of it. I think he's made some comments that it won't be a smash and grab approach. I think there's an opportunity to unlock investment," she said.



Is she going to dance with Julius Malema next while chanting, "Shoot the Boer"?



Not only has she stabbed Brexit voters in the back and sabotaged relations with Russia over the highly questionable Skripal poisoning scheme but now she's endorsing racial revenge-based wholesale land theft.



Follow InformationLiberation on Twitter, Facebook, Gab and Minds.