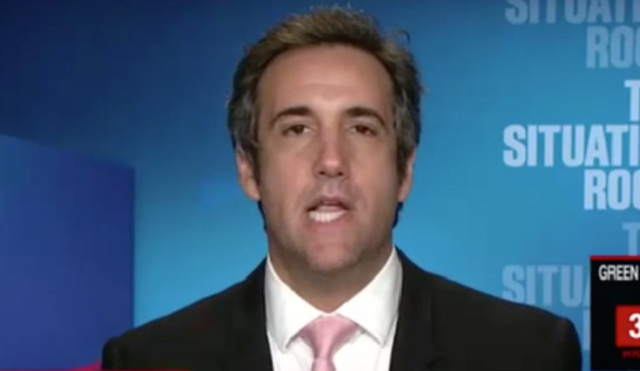 After over two years of digging, the deep state's conspirators may have managed to implicate President Trump in a campaign finance violation.

From CNBC:

Michael Cohen, the former personal lawyer and fixer for President Donald Trump, agreed to plead guilty on Tuesday to eight counts related to tax fraud, excessive campaign contributions, making false statements to a financial institution, and unlawful corporate contributions at a court hearing in New York on Tuesday.

Two of those counts appear to relate to Trump directly. Cohen admitted on Tuesday to making payments to two women at the direction of an unidentified candidate for political office. Those payments, Cohen said, were made to influence the outcome of the election.

"I used a company under my control to pay $130,000 to a person to keep information from becoming public," Cohen told the judge of one of the payments.

Cohen said that he was later paid back by the candidate. When the judge asked Cohen whether he knew what he was doing was illegal, he said "yes," according to NBC News.

That payment is thought to refer to the $130,000 hush money payment Cohen facilitated to porn star Stormy Daniels, who has said that she had sex with the president. Daniels, whose real name is Stephanie Clifford, is now suing Cohen and Trump to void a nondisclosure agreement regarding the payment.

Cohen could face more than five years in prison, according to his plea agreement.
It's gone from "Trump colluded with Russkies" to "Trump colluded to silence prostitutes."
[...]Experts have said that any deal could have dramatic implications for the president, who has worked closely with Cohen for more than a decade. The deal Cohen reached, however, does not appear to include cooperation with investigators, The New York Times reported, citing two people familiar with the matter. Cohen could still choose to cooperate.

Prosecutors have an incentive to seek plea bargains — even without a cooperation agreement — because they conserve substantial resources by striking deals, said Nick Gravante, a partner of New York-based law firm Boies Schiller.

"If a defendant is willing to admit guilt, why bother taking him to trial and proving it?" Gravante said in an email.

On the flip side, Gravante said, Cohen's plea has no real effect on Trump's legal situation if he doesn't cooperate — aside from the bad optics it creates.

A spokesperson for Cohen's lawyer Lanny Davis declined a request for comment from CNBC.

Cohen, a longtime friend and advisor to the president, once said he would take a bullet for Trump. But in recent months, Cohen began to signal that he could cooperate with investigators. In an interview with ABC News in July, Cohen said he put "family and country" before Trump.
What an interesting way to say, "I sold out my country and President Trump for personal gain."

How much illegal spying by the deep state did it take to get this conviction? How much of the government's case was just "parallel construction," i.e., where the government uses illegal spying to get dirt on suspects then illegally tips off prosecutors to help them make their case?

Follow InformationLiberation on Twitter, Facebook, Gab and Minds.