SHOCK VIDEO: Violent Mob Viciously Attacks 'Suspected Right-Winger' At Oakland Protest
Chris Menahan
InformationLiberation
Jul. 24, 2018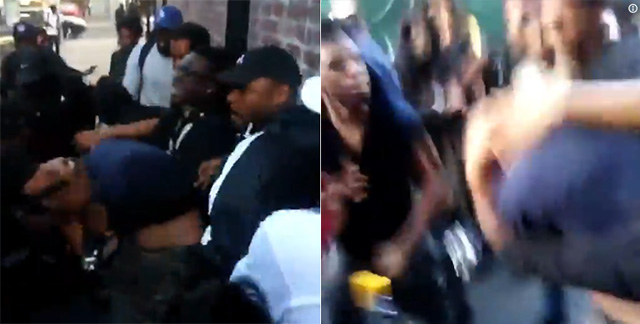 Shocking video out of Oakland shows a violent mob of Black Lives Matter protesters viciously beat a random white man whom they thought might be a member of the right-wing Proud Boys group.

The mob can be heard screaming, "f**k that n*gga, f**k his ass up!"

As the mob beats the man fighting ten or twenty versus one, many of the assailants can be seen with giant smiles on their faces as they whale on the man and orgasmic screams can be heard from the crowd shouting, "hell yeah!"


"The attack apparently happened when the man showed up to a protest over an African-American woman who was killed in a BART station," The Daily Caller reports.


The purported victim, who was wearing an American flag, allegedly also had his shoes stolen and was falsely labeled a "white terrorist" on social media.


The Bay Area Proud Boys said the beating victim is not a member of their group.



Gavin McInnes, who founded the Proud Boys, said the group never planned to meet at their event and the mob appear to have attacked "random strangers."



I'm sure CNN and MSNBC will be all over this story any second now!

Follow InformationLiberation on Twitter, Facebook and Gab.