White House Highlights Children 'Permanently Separated' From Their Parents By Illegal Aliens
Chris Menahan
InformationLiberation
Jun. 18, 2018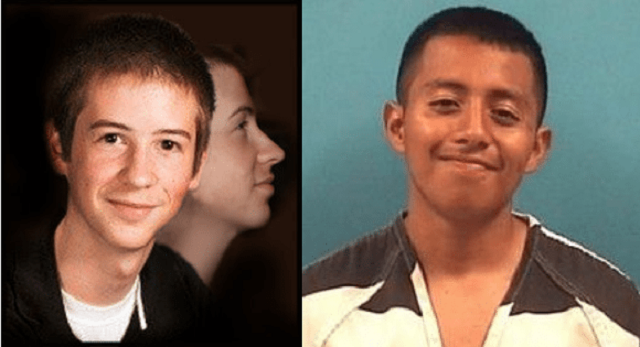 President Trump's White House issued a press release on Friday highlighting cases of American families who've been "permanently separated from loved ones lost to illegal alien crime" thanks to the "Democrats' family separation policy" of open borders.

From WhiteHouse.gov:

CONGRESSIONAL DEMOCRATS' FAMILY SEPARATION POLICY: Too many American families have been permanently separated from loved ones lost to illegal alien crime.

Open border laws and policies are responsible for the permanent separation of too many American families whose loved ones have been lost to illegal alien crime.


President Trump has met with family members whose loved ones have fallen victim to illegal alien crime.




Juan Pina was permanently separated from his daughter after she was strangled, raped, and murdered by an illegal alien.


Laura Wilkerson was permanently separated from her son, who was brutally murdered by an illegal alien classmate.


Jamiel Shaw, Sr. was permanently separated from his son, who was tragically murdered by an illegal alien gang member.



Congressional Democrats have repeatedly voted against common sense immigration legislation that would help make our communities safer.




In 2017, 174 House Democrats voted against legislation that would have helped ensure aliens associated with a gang are not admitted into the United States and would have empowered officials to more effectively remove those already here.


In 2017, 166 House Democrats voted against Kate's Law, named after Kate Steinle who was killed by a previously deported illegal alien with a lengthy criminal history.


In February 2018, Senate Democrats blocked legislation that would have cracked down on dangerous sanctuary cities.

OPEN BORDER POLICIES: American communities have suffered from illegal alien crime and illegal drugs flooding our country due to open border policies and immigration enforcement loopholes.

Drugs have flooded across our porous borders, poisoning our communities, and costing American lives.




The Southwest border is a major source of illegal drugs entering the United States.


Most heroin entering the United States is produced in Mexico, and production levels there continue to rise.



A total of 57,820 known or suspected aliens were in Department of Justice custody at the end of the first quarter of fiscal year 2018, 60 percent of whom were aliens with orders of removal.


A 2011 report by the Government Accountability Office (GAO) found nearly 3 million criminal arrest offenses tied to incarcerated criminal aliens, including 25,000 homicide offenses.


Transnational gangs, such as MS-13, take advantage of our open borders and the loopholes in our immigration system.




MS-13 and other gangs have bolstered their ranks by exploiting the influx of Unaccompanied Alien Children entering the United States.
Trump had a meeting at the White House in June 2017 with many "Angel parents" who were separated from their loved ones by illegal aliens:



You won't hear the hysterical Democrats crying over any of them.

Follow InformationLiberation on Twitter, Facebook and Gab.