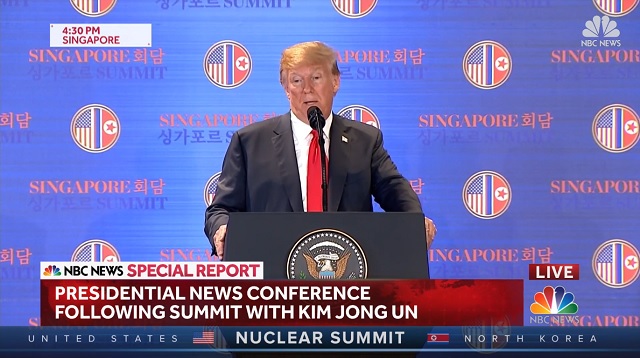 President Trump spoke hard, politically incorrect truths for an hour straight on Tuesday in Singapore in one of the greatest press conferences of all time.

First and foremost: Trump defended calling Kim Jong Un "very talented."


"He is very talented," Trump said in response to an NBC news reporter who questioned how he can call a murderous dictator "very talented."

"Anybody that takes over a situation like he did at 26 years of age and is able to run it and run it tough, I don't say it was nice, he ran it - very few people at that age, you can take one out of 10,000 probably who couldn't do it."



This is undeniable. Kim inherited his father's third-world communist s**thole in 2011 and turned his country into a nuclear power which is rising on the world stage. As Trump said, you don't have to like it, but there's no question what he's accomplished is hugely significant.

Here's what John Lyons wrote Sunday in the War Street Journal:

Mr. Kim has a way of overturning expectations. When he inherited power in North Korea in December 2011, expert opinion was he'd be toppled or killed within a year. Filmed red-faced and sobbing at his father's wake, the pudgy would-be dictator in his late 20s didn't seem up to the Darwinian task of extending the bloody Kim dynasty to a third generation.

Six years on, he is a bona fide 21st century tyrant prepping for a planned June 12 meeting with U.S. President Donald Trump —a summit Mr. Kim's father and grandfather only dreamed about. Along the way, he acquired intercontinental ballistic missiles faster than many scientists thought possible, and threatened to use them on U.S. cities during a harrowing nuclear standoff.

At home, he is digging in for a long rule by replacing older apparatchiks with younger ones loyal to him. He has killed rival family members, staged public executions and is keeping some 100,000 people in gulags, say United Nations investigators who accused him of crimes against humanity in 2014. He's had more defense ministers so far than served in all North Korea's previous 50 years.

Once seen as a sadistic recluse who lacked the confidence to meet a single foreign leader during his first six years in power, Mr. Kim is now on a diplomacy blitz. Since March, he has met twice with both the president of South Korea and China's leader and proposed a summit with Mr. Trump—all while gaining a reputation as a sure-footed host who toasts guests with fine wines and softens his fearsome reputation with humor.

[...]"At first we were all perplexed why he was chosen," says Andrei Lankov, a North Korea expert at Kookmin University in Seoul. "But then we realized that he is an efficient, rational, Machiavellian dictator, and only an efficient, rational, Machiavellian dictator can rule North Korea, otherwise it will collapse."
Pussy liberals who think Justine Trudeau is a master statesman are predictably whining about Trump's entirely accurate comments.

Washington Post columnist Brian Klaas:


ABC News foreign corespondent James Longman:


The dumbest of all, former Florida Republican Rep.-turned lobbyist and #Resistance activist David Jolly, dropped this gem:


Imagine being so ignorant you think no president in history has ever praised a dictator.

Asked about North Korea's human rights record, Trump pointed out it's certainly a "rough situation" in North Korea, but it's also "rough in a lot of places."


Neocons and Neolibs only care about human rights when it suits their globalist agenda. They ignore the human rights disaster that is Mexico, Honduras and El Salvador while demanding our country be open to every MS-13 gang member who can get across the border (and don't you dare call them "animals," they have a "spark of divinity" inside them).

They ignore (or cheer on) the imprisonment of political dissidents in America, Germany, the United Kingdom and France, but then say we need to send our soldiers to die to stop abuses going on on the other side of the world.

The whole press conference was jam-packed with similar hard truths. It was "Campaign Trump" on full display and it was a beauty to behold.

Trump said he wants to pull all US troops out of South Korea, said they're suspending war games which he acknowledged were "provocative," and spoke out against US adventurism overseas. He also defended criticizing Justin Trudeau while praising Kim Jong Un. It was greatness all-around. This is the president I voted for.



Follow InformationLiberation on Twitter, Facebook and Gab.