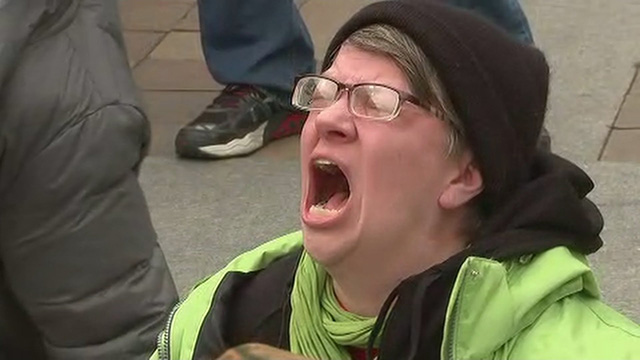 On Monday, the Supreme Court ruled against two homosexual men who targeted a Christian bakery for destruction after the owner politely explained to them he doesn't make cakes for gay weddings.

"I'll make you birthday cakes, shower cakes, sell you cookies and brownies," Denver businessman Jack Phillips, owner of the Masterpiece Cakeshop, told homosexual couple Charlie Craig and David Mullins during a brief conversation in July 2012. "I just don't make cakes for same-sex weddings."

Though there was "at least nineteen other bakeries in the same section of Denver" and the two were quickly able to get another shop to make them a cake with rainbow filling, the two set out to destroy Phillips' life.

Though it took six years to come to a conclusion, the anti-Christian bigots lost.

From Reuters:

WASHINGTON, June 4 (Reuters) - The U.S. Supreme Court on Monday handed a victory on narrow grounds to a Colorado Christian baker who refused for religious reasons to make a wedding cake for a gay couple, stopping short of setting a major precedent allowing people to claim exemptions from anti-discrimination laws based on religious beliefs.

The justices, in a 7-2 decision, said the Colorado Civil Rights Commission showed an impermissible hostility toward religion when it found that baker Jack Phillips violated the state's anti-discrimination law by rebuffing gay couple David Mullins and Charlie Craig in 2012. The state law bars businesses from refusing service based on race, sex, marital status or sexual orientation.

The ruling concluded that the commission violated Phillips' religious rights under the U.S. Constitution's First Amendment.

But the justices did not issue a definitive ruling on the circumstances under which people can seek exemptions from anti-discrimination laws based on their religious views. The decision also did not address important claims raised in the case including whether baking a cake is a kind of expressive act protected by the Constitution's free speech guarantee.

Two of the court's four liberals, Stephen Breyer and Elena Kagan, joined the five conservative justices in the ruling authored by Justice Anthony Kennedy, who also was the author of the landmark 2015 decision legalizing gay marriage nationwide.

"The commission's hostility was inconsistent with the First Amendment's guarantee that our laws be applied in a manner that is neutral toward religion," Kennedy wrote.

But Kennedy also stressed the importance of gay rights while noting that litigation on similar issues is likely to continue in lower courts.

"Our society has come to the recognition that gay persons and gay couples cannot be treated as social outcasts or as inferior in dignity and worth," Kennedy wrote.

"The outcome of cases like this in other circumstances must await further elaboration in the courts, all in the context of recognizing that these disputes must be resolved with tolerance, without undue disrespect to sincere religious beliefs, and without subjecting gay persons to indignities when they seek goods and services in an open market," Kennedy added.

The case marked a test for Kennedy, who has authored significant rulings that advanced gay rights but also is a strong advocate for free speech rights and religious freedom.

Of the 50 states, 21 including Colorado have anti-discrimination laws protecting gay people.

The case pitted gay rights against religious liberty. President Donald Trump's administration intervened in the case in support of Phillips.

Mullins and Craig were planning their wedding in Massachusetts in 2012 and wanted the cake for a reception in Colorado, where gay marriage was not yet legal. During a brief encounter at Phillips' Masterpiece Cakeshop in the Denver suburb of Lakewood, the baker politely but firmly refused, leaving the couple distraught.

They filed a successful complaint with the state commission, the first step in the six-year-old legal battle. State courts sided with the couple, prompting Phillips to appeal to the top U.S. court. Phillips has said a backlash against his business has left him struggling to keep the shop afloat.

The case's outcome hinged on the actions of the Colorado commission. In one exchange at a 2014 hearing cited by Kennedy, former commissioner Diann Rice said that "freedom of religion, and religion, has been used to justify all kinds of discrimination throughout history, whether it be slavery, whether it be the Holocaust."
Indeed, not baking a cake for a homosexual couple is one step away from the Holocaust.

Step 1: Refuse to bake a cake for religious reasons.

Step 2: Government rules bakers cannot be compelled to bake a cake against their religion and against their will.

Step 3: Holocaust.

Here's more on the ruling from SCOTUS Blog:

The Supreme Court ruled today in favor of Jack Phillips, a Colorado baker who refused to make a custom cake for a same-sex couple because he believed that doing so would violate his religious beliefs. This was one of the most anticipated decisions of the term, and it was relatively narrow: Although Phillips prevailed today, the opinion by Justice Anthony Kennedy rested largely on the majority's conclusion that the Colorado administrative agency that ruled against Phillips treated him unfairly by being too hostile to his sincere religious beliefs. The opinion seemed to leave open the possibility that, in a future case, a service provider's sincere religious beliefs might have to yield to the state's interest in protecting the rights of same-sex couples, and the majority did not rule at all on one of the central arguments in the case – whether compelling Phillips to bake a cake for a same-sex couple would violate his right to freedom of speech.
The ruling sounds like it was pathetically weak, nonetheless it was a victory.

What's truly remarkable is that Ruth Bader Ginsburg and Sonia Sotomayor have such a hatred for America they voted against the Christian baker.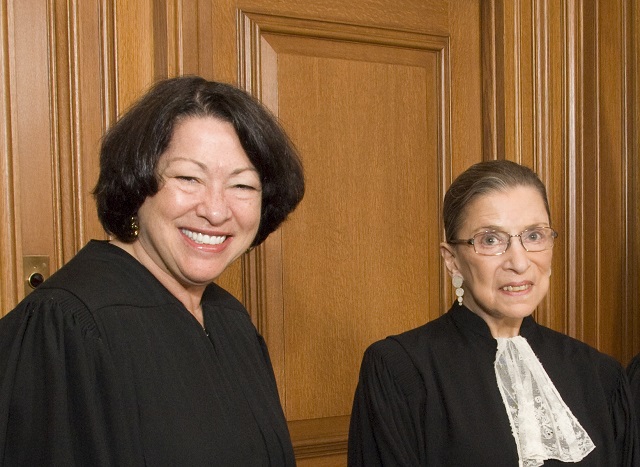 Ginsburg, who should be kicked off the bench for going senile, dropped this gem in her dissent: "When a couple contacts a bakery for a wedding cake, the product they are seeking is a cake celebrating their wedding—not a cake celebrating heterosexual weddings or same-sex weddings—and that is the service Craig and Mullins were denied."

The rainbow wedding cake specifically requested for a gay wedding was not a gay wedding cake, but just a wedding cake! Makes sense!

On the bright side, Trump may get another one, two or three Supreme Court appointments so if this ever comes up again odds are it will be shut down even harder.

Follow InformationLiberation on Twitter, Facebook and Gab.