Evergreen Cuts Budget By $6M Due to Enrollment Plunge, Plans For Layoffs
Chris Menahan
InformationLiberation
May. 20, 2018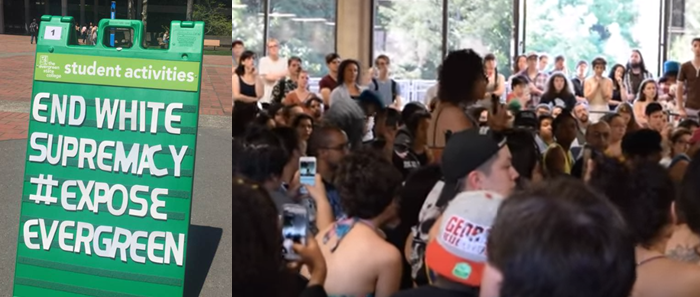 Evergreen State College of "no-whites-allowed" fame is slashing its budget, hiking student fees and planning for layoffs due to plunging enrollment numbers.

From The Olympian:

The Evergreen State College will look to cut more than 10 percent from its operating budget for 2018-19 and raise student fees because of declining enrollment.

In a memo to the college's board of trustees, Evergreen President George Bridges wrote that cuts totaling $5.9 million are needed because of lower-than-expected tuition revenue. This will require "some" layoffs and eliminating "many positions that are currently vacant," according to Bridges.
They're dramatically jacking up fees (which will no doubt lead to further enrollment declines):
▪ The new student fee, which students pay once when they start at Evergreen, would go up $100 to $275 for those starting in the fall and to $145 for those starting in the winter or spring.

▪ The wellness fee, which covers basic health services and referrals to off-campus providers, would go up $111 to $420 per year.

▪ The services and activities fee would go up $25 to $649 per year for full-time students.
An internal report found the downward trend will likely continue:
The report, commissioned by the college, highlighted the potential effect on enrollment, which fell 5 percent from fall 2016 to fall 2017.

"Further declines in applications (possibly by as much as 20 percent) and enrollments are expected for the Fall of 2018 based on current year-to-year data. …" according to the report, which also was presented to trustees this week.

"The financial pressures in lost operating revenue from those declines will be significant, and will potentially generate another sense of 'trauma' on the campus."
They'd better help provide their students with plenty of "emotional support animals" as the future is going to be rough.

Follow InformationLiberation on Twitter, Facebook and Gab.