Chicago Rejoice! Tech Giants Replacing Gun Emojis With Water Pistols
Chris Menahan
InformationLiberation
Apr. 27, 2018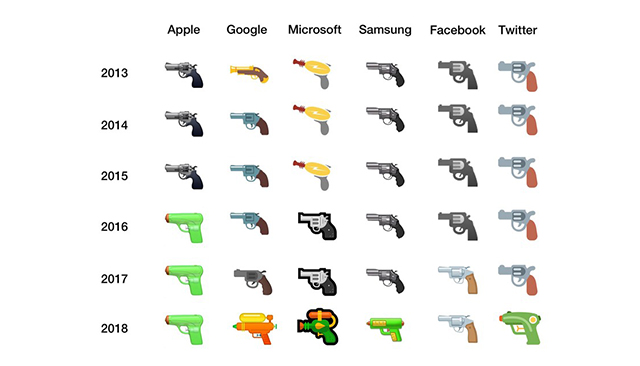 Chicago, Baltimore, St Louis and Detroit are all breathing sighs of relief with the news that Microsoft, Google, Twitter and others are replacing their gun emojis with water pistols.

This will surely solve the crime problem in our inner cities!

From RT:

Microsoft, Google and Facebook have now all joined Silicon Valley's anti-gun brigade and are replacing their gun emojis with a water pistol.

Apple was the first to rebrand the weapon in 2016 following a series of mass shootings in the US. Other major players were hesitant to join the PC brigade at first, in fact, Microsoft announced days later that they were doing the reverse by changing their space gun to look more realistic.

At the time, it was thought the update would cause more confusion by deviating from the global Unicode Standard across devices and apps. The code ensured that emojis appeared to have the same meaning irrespective of the device it was sent to or from.

For years, major platforms held steady on their intent to follow the code, however, as of Wednesday, Google, Microsoft, Samsung, WhatsApp, Facebook and Twitter have opted for the less intimidating hardware.

WhatsApp replaced its gun with a water pistol in 2017, while Samsung and Twitter followed suit in 2018 and now Google, Facebook and Microsoft have all announced they are joining the fold.
Microsoft tweeted Wednesday they're in the process of "evolving" their emojis to "reflect their values," which are presumably spinelessness, gutlessness and feebleness.


The move went over quite well:






Follow InformationLiberation on Twitter, Facebook and Gab.