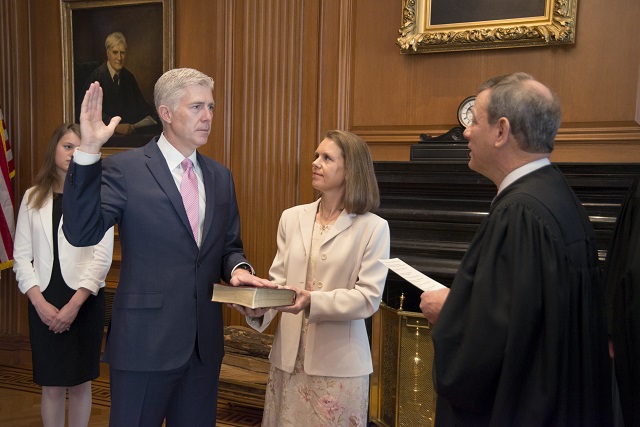 President Trump's pick for the Supreme Court just sided with the liberals to hurry along the destruction of America.

From CNN:

The Supreme Court on Tuesday invalidated a provision of federal law that requires the mandatory deportation of immigrants who have been convicted of some "crimes of violence," holding that the law is unconstitutionally vague.

The case, Sessions v. Dimaya, had originated during the Obama administration but had been closely watched to see if the justices would reveal how they will consider the Trump administration's overall push to both limit immigration and increase deportations.

As expected after the oral argument, Justice Neil Gorsuch joined with the more liberal justices for the first time since joining the court to produce a 5-4 majority invalidating the federal statute. In doing so, Gorsuch was continuing the jurisprudence of Justice Antonin Scalia, who also sided with liberals when it came to the vagueness of statutes used to convict criminal defendants.

Only eight justices heard the case last term after Scalia's death, and in late June, the court announced it would re-hear arguments this term, presumably so that Gorsuch could break some kind of a tie.

President Donald Trump reacted to the ruling on Twitter on Tuesday evening, writing, "Today's Court decision means that Congress must close loopholes that block the removal of dangerous criminal aliens, including aggravated felons. This is a public safety crisis that can only be fixed by Congress -- House and Senate must quickly pass a legislative fix to ensure violent criminal aliens can be removed from our society. Keep America Safe!"

Originated under Obama administration

James Garcia Dimaya, a native of the Philippines, was admitted to the United States in 1992 when he was 13 as a lawful permanent resident. In 2007 and 2009, he pleaded no contest to charges of residential burglary in California. In 2010, the Obama administration brought removal proceedings against Dimaya. An immigration judge determined that Dimaya was removable from the US because of his two state court convictions.

The court held that the convictions qualified for an "aggravated felony" under the Immigration and Nationality Act, which authorizes removal of non-citizens who have been convicted of some violent crimes and defines aggravated felony to include "crimes of violence."

Lawyers for Dimaya appealed the removal arguing that it was unconstitutionally vague and that their client never had fair notice that his crimes would result in deportation.

They suggested the reasoning of a 2015 Scalia opinion, which struck a provision of the Armed Career Criminal Act as unconstitutionally vague, should extend to their case.

The Ninth Circuit Court of Appeals ruled in Dimaya's favor.

[...]In court, arguing for the Trump administration, Deputy Solicitor General Edwin Kneedler said that when it comes to deportation, "I think it is important for the court to understand that immigration provisions and grounds for deportation are often written in very broad and general terms and given content by the executive branch in which Congress has vested authority."

Michael Kagan of the University of Nevada Las Vegas, an expert on immigration law, notes that Dimaya's challenge began when President Barack Obama was still in office and that Tuesday's ruling is "another sign from the court that due process matters when it comes to deportation."

"This ruling is something immigrants can cite to as they argue for more constitutional protections in other areas," he said.

The Justice Department cited the decision as the basis of the need for more law enforcement powers.

"The Justice Department believes that certain crimes committed by an illegal alien, visa holder, or an alien otherwise granted lawful status in the United States, should trigger their removal," said spokesman Devin O'Malley. "Therefore, we call on Congress to close criminal alien loopholes to ensure that criminal aliens who commit those crimes -- for example, burglary in many states, drug trafficking in Florida, and even sexual abuse of a minor in New Jersey -- are not able to avoid the consequences that should come with breaking our nation's laws."

The Department of Homeland Security sounded a similar tune, saying the ruling "significantly undermines" the agency's efforts and alleging the ruling "allows our nation to be a safe haven for criminals and makes us more vulnerable as a result," according to spokesman Tyler Houlton.

Trump could have nominated someone who didn't go to Harvard or Yale and whose position on immigration was not a mystery, instead he chose the good looking, tall guy Conservative Inc. told him would be best.

When Ann Coulter got into a shouting match with Trump in the oval office last year over his failure to deliver on his promises on immigration, Trump's response was, "I appointed Gorsuch."

"I said that doesn't count," Coulter responded. "Jeb, exclamation point, would have done that. Rubio would have done that. How is your presidency different from what Rubio would have done?"



While the left-wing fanatics on the Supreme Court and throughout the judiciary are waging total war on America and using the Constitution as a battering ram to undermine our nation's sovereignty, conservatives like Gorsuch are still living in 1960's America and trying to act as honest brokers.

This is the folksy logic Gorsuch cited in his ruling:

Before holding a lawful permanent resident alien like James Dimaya subject to removal for having committed a crime, the Immigration and Nationality Act requires a judge to determine that the ordinary case of the alien's crime of conviction involves a substantial risk that physical force may be used. But what does that mean? Just take the crime at issue in this case, California burglary, which applies to everyone from armed home intruders to door-to-door salesmen peddling shady products. How, on that vast spectrum, is anyone supposed to locate the ordinary case and say whether it includes a substantial risk of physical force? The truth is, no one knows. The law's silence leaves judges to their intuitions and the people to their fate. In my judgment, the Constitution demands more.
Liberal judges meanwhile are ruling it's illegal for employers to "discriminate" against illegal aliens by only hiring US citizens or those with green cards.

Once again, conservatism has been proven to conserve nothing.

Follow InformationLiberation on Twitter, Facebook and Gab.