Somali-born Minneapolis police officer Mohamed Noor has been charged with murder in the death of Australian Justine Ruszczyk Damond eight months after he fatally shot her while responding to her call for help.

From Fox News:

The Minneapolis police officer who fatally shot an Australian woman in July was charged with murder Tuesday after he turned himself in when a warrant was issued for his arrest.

Officer Mohamed Noor turned himself in on Tuesday in connection to the 2017 death of Justine Ruszczyk Damond. his attorney confirmed.
The criminal complaint remained sealed by midday Tuesday, but according to the jail roster Noor was booked on a third-degree murder charge for perpetrating an eminently dangerous act while showing a "depraved mind." The second-degree manslaughter charge alleges he acted with "culpable negligence creating unreasonable risk."

Damond was shot July 15, minutes after calling 911 to report a possible sexual assault in the alley behind her home. The 40-year-old life coach's death drew international attention, cost the police chief her job and forced major revisions to the department's policy on body cameras.
The evidence suggests Noor was hired not because of his outstanding qualifications, but instead to boost diversity numbers.

The shooting also prompted questions about the training of Noor, a two-year veteran and Somali-American whose arrival on the force had been celebrated by city leaders and Minnesota's large Somali community. Noor, 32, had trained in business and economics and worked in property management before becoming an officer.
Then-Chief Janee Harteau defended Noor's training and said he was suited to be on the street, even as she criticized the shooting itself. But Harteau -- who was on vacation when the shooting happened and didn't make her first public appearance until several days after the shooting -- was forced out soon after by Mayor Betsy Hodges, who said she had lost confidence in the chief.

Harteau's replacement, Medaria Arradondo, quickly announced a policy change requiring officers to turn on their body cameras in responding to any call or traffic stop.
Noor having a body camera on while he shot her out of the blue for seemingly no reason would not have changed anything.



The issue is the collapsing of standards in the name of "diversity" and "inclusion."
If convicted of third-degree murder, Noor could face a maximum of 25 years in prison, though the presumptive sentence is 12 ½ years. A judge could issue a sentence ranging from about 10 ½ to 15 years.

The second-degree manslaughter charge carries a maximum sentence of 10 years in prison, but the presumptive sentence is four years.
World Net Daily exposed how Noor was reportedly a "diversity hire" last year:

WND has learned he was one of five Somalis on the entire force and that the city makes a special effort to recruit Somalis as part of its affirmative-action plan.

The city's affirmative-action program requires it to give preferential treatment to minorities, not only those hired by the city but by all contractors awarded contracts of more than $100,000.

The city's leaders bemoaned the fact that they could not come up with more blacks to staff 100 new positions that came open at the end of 2014. The Star-Tribune, in an Aug. 19, 2014, article headlined "Minneapolis police struggle to hire diverse force," interviewed several activists who took the city to task for allowing the number of black officers to dwindle.

With 100 new openings, the city was all but apologizing for the fact that at least 71 percent would be white, saying it had tried everything to recruit more blacks over the years, including a pre-high school academy that nurtured young black kids who showed an interest in law enforcement. But was having only marginal success.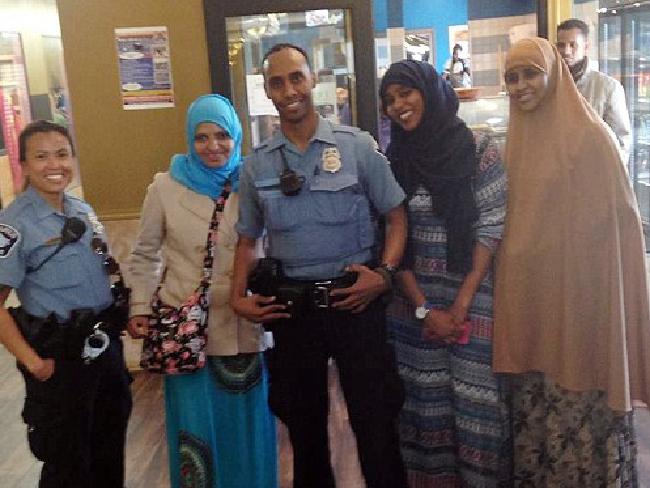 "Minneapolis police have about half the black and Hispanic officers they need to accurately reflect the city's population, records show. This comes despite years of diversity plans, legal action and a federal mediation agreement sparked by low levels of minority representation within the police," the Star Tribune reported.

The mediation agreement was a tool of the Obama Justice Department to pressure the city into hiring more black and Latino officers.

One of those who dished out criticism of city leaders in late 2015 was Peter Hayden, part of the Community Standards Initiative, a group seeking more diversity in the city's police department.

"My concern and our concern is that there seems to be room to hire new people but where are the people of color, particularly about African-Americans?" asked Hayden.

Minneapolis police have been "intensely committed" to finding diverse candidates, police spokesman John Elder told the Star-Tribune in August 2014.

So, a few months later when the department hired Mohamed Noor in March 2015, it was a big deal. The mayor herself, Betsy Hodges, issued a public statement commending the hire.
Follow InformationLiberation on Twitter, Facebook and Gab.