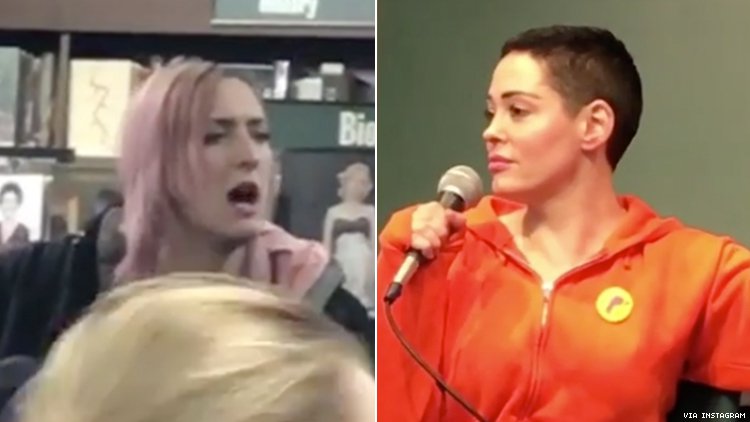 Rose McGowan went off on a deranged lunatic who came to her event at Barnes & Noble in Manhattan on Wednesday to scream at her for saying "trans women, are not like regular women," at least in the lunatic's words.

Many people are calling it the "b---h slapping of the century."


From Variety:

...a woman shot up from her seat to confront McGowan about comments made on RuPaul's "What's the Tee?" podcast in July 2017, which recently resurfaced on social media. The mood took a sharp turn.

"I have a suggestion. Talk about what you said on RuPaul. Trans women are dying and you said that we, as trans women, are not like regular women. We get raped more often. We go through domestic violence more often. There was a trans woman killed here a few blocks [away]. I have been followed home –." The woman was then interrupted by Rose.
She tried to placate him:
"Hold on. So am I. We are the same. My point was, we are the same. There's an entire show called ID channel, a network, dedicated to women getting abused, murdered, sexualized, violated, and you're a part of that, too, sister. It's the same," McGowan retorted.
It had no effect:

"You do nothing for them. Trans women are in men's prisons. And what have you done for them?" she asked.

"What have you done for women?" McGowan said.

It then turned into a shouting match, with McGowan demanding the interrupter sit down as her voice broke. She proceeded to yell at the woman as she was carted off by Barnes & Noble security, chanting "white cis feminism." McGowan, as the woman was carted off, launched into a passionate tirade, shouting into the microphone:

"Don't label me, sister. Don't put your labels on me. Don't you f—ing do that. Do not put your labels on me. I don't come from your planet. Leave me alone. I do not subscribe to your rules. I do not subscribe to your language. You will not put labels on me or anybody. Step the f— back. What I do for the f—ing world and you should be f—ing grateful. Shut the f— up. Get off my back. What have you done? I know what I've done, God dammit."

..."I'm not crying I'm f—ing mad with the lies. I'm mad that you put s— on me because I have a f—ing vagina and I'm white or I'm black or I'm yellow or I'm purple. F— off. All of us want to say it. I just do."
Fact check: true.
"And you can label this thing as a breakdown. That, motherf—ers, is a breakdown. Maybe not for me, but for you. I might have information you want. I might know s— that you don't. So f—ing shut up. Please systemically. For once. In the world. You know what I'm talking about. Just tell the God damned truth. Stop boxing everybody into s—. I didn't agree to your cis f—ing world. Ok? F— off."
It wasn't a breakdown, it was a break out.

She threw off the chains of political correctness.

Even leftists are getting sick of this Victim Olympics bulls--t.

Follow InformationLiberation on Twitter, Facebook and Gab.