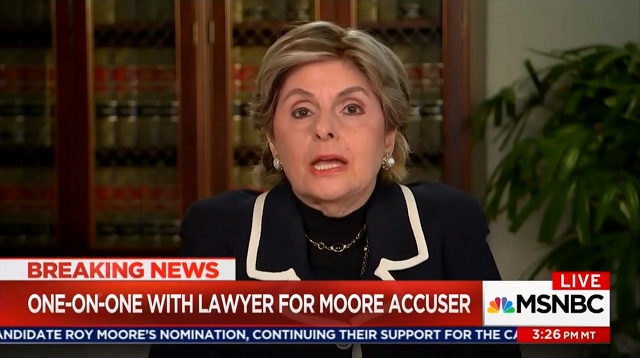 Gloria Allred admitted under questioning Thursday on MSNBC that she never asked her client Beverly Young Nelson if she saw Roy Moore sign her yearbook.

The authenticity of Roy Moore's signature has been widely questioned, including by Moore's lawyer Phillip L. Jauregui (more on that below).



Via Breitbart:

TUR: Does your client, Beverly Young Nelson, remember him signing it?

ALLRED: She remembers — well, she remembers being with him. It was on the counter. She alleges that he took it, that he signed it and she was thrilled that he had signed it, because, as far as she knew, he was a D.A. and that was an important position.

TUR: So she saw him sign it?

ALLRED: I don't believe at the time she had a clue whether he was an assistant D.A. or a D.A., but he signed it, she took it. As far as she knows, I mean, there's no reason for her to think it's anybody's but his signature.

TUR: But did she see him sign it?

ALLRED: You know, I don't — I haven't asked her if she saw him, but we did describe what happened that evening in question. What she alleges was that she put it on the counter; that I think she asked to sign — or that he did sign it. That's all.

TUR: I ask this, because it seems you're not 100% sure that it is his signature, and if you're not 100% sure that it is his signature, why would you show it at a press conference?

ALLRED: Well, why would — you know, why does anybody doubt that it is his signature?
There's a lot more stammering, watch the full interview above. I don't know what's more shocking, Allred falling apart or Katy Tur actually asking hard questions for a change.

Here's some shots analyzing the two signatures: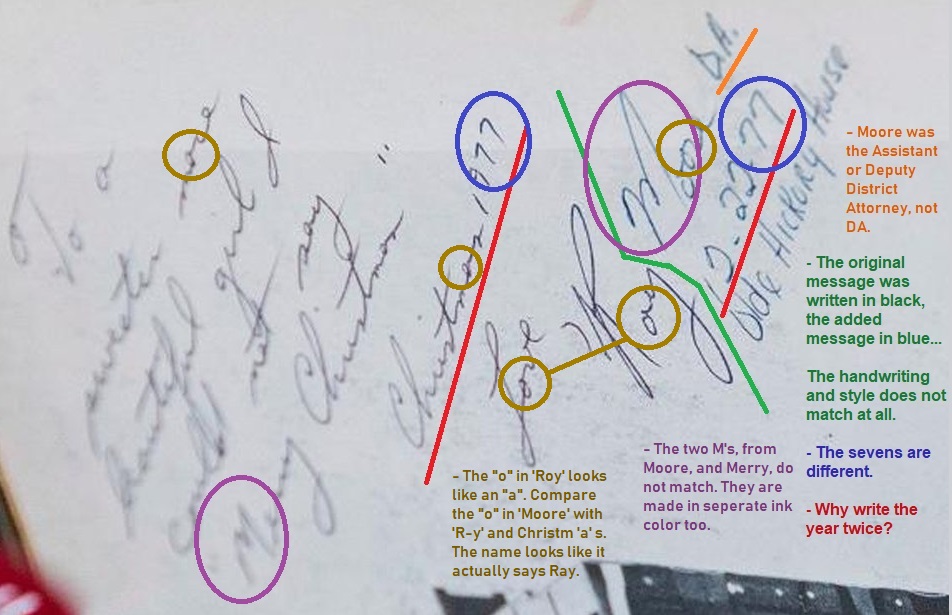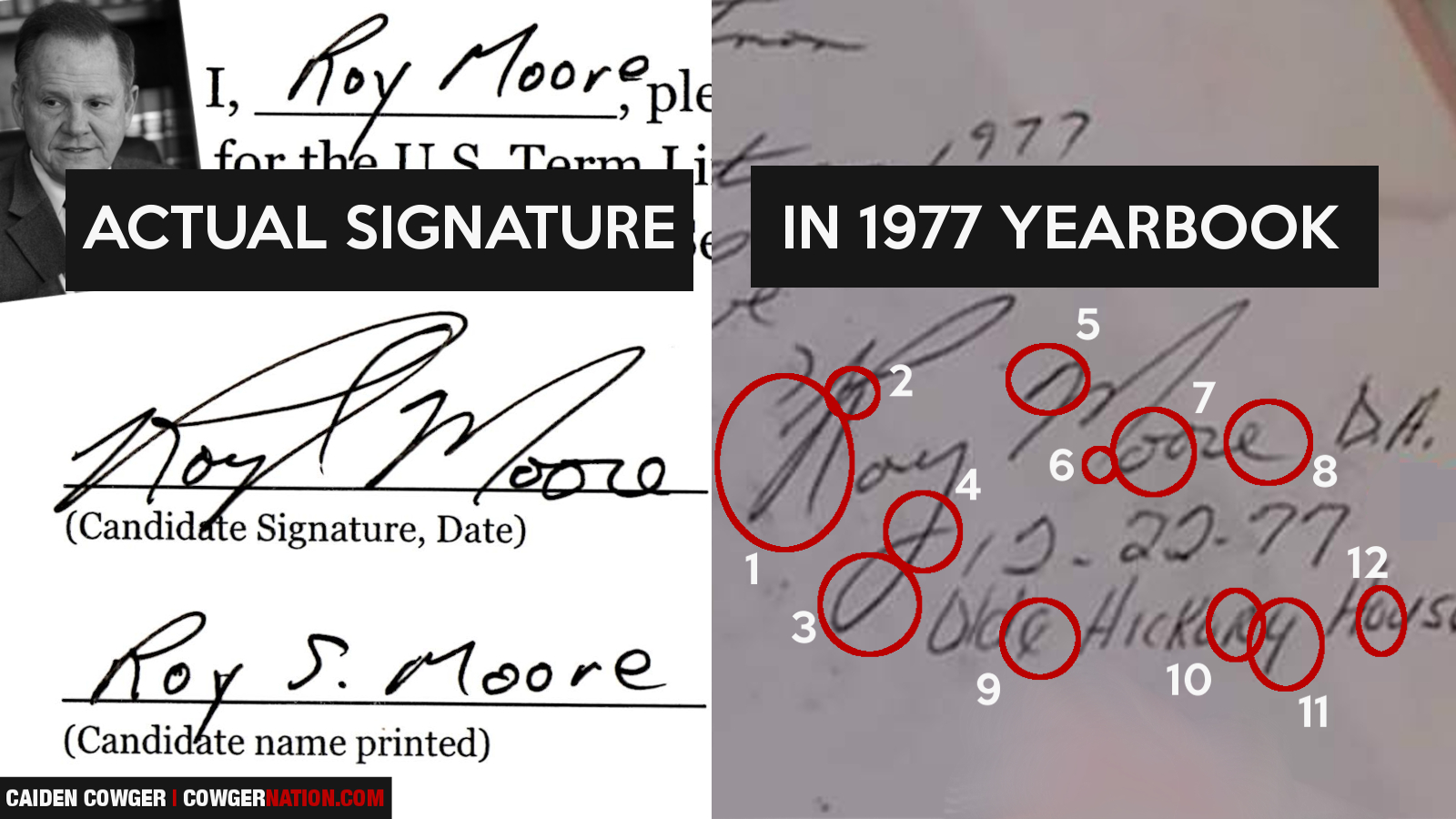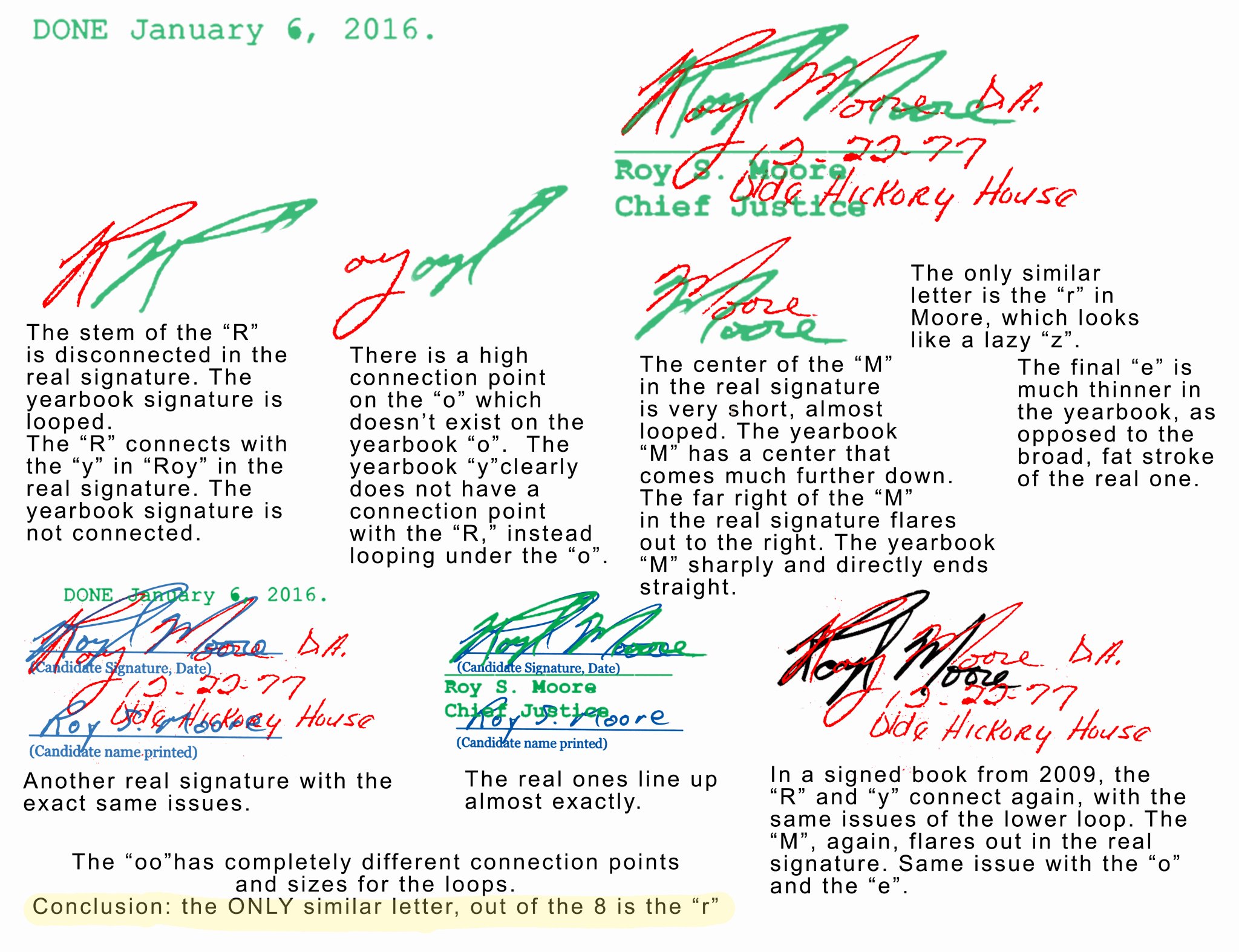 This last one shows how half the signature after "Roy" appears in one photo as though it was written in a different color blue ink: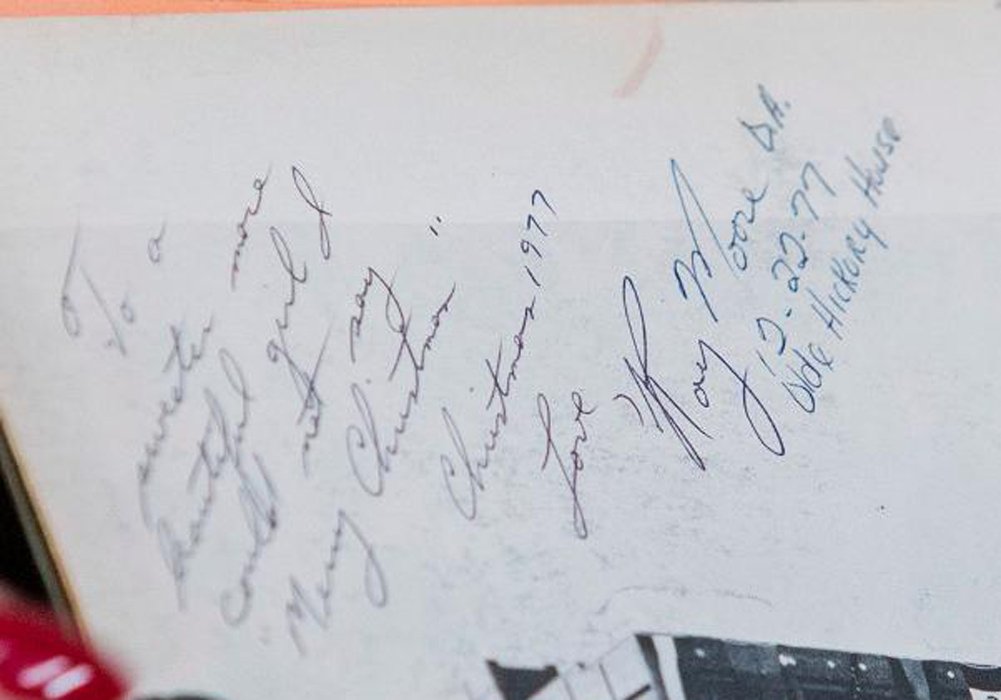 Both Moore and his attorney Phillip L. Jauregui called Young's story and the alleged signature into question on Wednesday:

Jauregui said Nelson was not forthcoming about having no contact with Moore after the alleged abuse in the 1970s.

"As it turns out ,in 1999, Ms. Nelson filed a divorce action against her then-husband, Mr. Harris. Guess who that case was before? It was filed in Etowah County and the judge assigned was Roy S. Moore - circuit judge of Etowah County. There was contact," Jauregui said.

Jauregui also contended that Moore did not sign Nelson's high school yearbook -- a signature that Nelson and Allred used to bolster their claims. He added that the signature was inconsistent with Moore's handwriting, and that the postscript on the signature -- D.A. -- matched the initials of Moore's assistant at the time.

He called on Allred to release the yearbook so experts hired by Moore can analyze the handwriting.

"I got a question, Gloria Allred and Ms. Nelson: Do you still hold that everything written in that yearbook was written by Roy Moore or was it written by somebody else? That's not an allegation, that's a question," he said.

Allred later released a statement to CNN, saying they would agree to an examination of the yearbook by "an independent expert or experts" after a Senate committee agrees to conduct a hearing into the accusations about Moore.

In an open letter to Sean Hannity, who said yesterday he needed evidence from Moore to continue supporting him, Moore said the handwriting in Nelson's divorce case is different than the signature in her yearbook, among other inconsistencies.

"My signature on the order of dismissal in the divorce case was annotated with the letters 'D.A.,' representing the initials of my court assistant. Curiously the supposed yearbook inscription is also followed by the same initials--'D.A.' But at that time I was deputy district attorney, not district attorney," Moore wrote. "Those initials as well as the date under the signature block and the printed name of the restaurant are written in a style inconsistent with the rest of the yearbook inscription. The '7's' in 'Christmas 1977' are in a noticeably different script than the '7's' in the date '12-22-77.' I believe tampering has occurred. "
Allred feigning ignorance as though she hasn't heard anyone "doubts" the authenticity of the signature is comical.

Young's stepson Darrel Nelson also claims that his stepmother's accusations are "one hundred percent a lie."

"I know for a fact that there is a lot that that woman does not tell the truth on," Nelson told Breitbart News on Thursday. "Do I think that Beverly is trustworthy? No, I really don't. Could I see her making it up? …The odds are in that favor."



On the topic of debunking questionable claims, former Gadsden Mall manager Barnes Boyle told WBRC on Wednesday that contrary to reports, Roy Moore was also never "banned" from the mall to his knowledge.

"Sure, it was part of the job," Boyle said. "We did have written reports and things. But to my knowledge, he was not banned from the mall."

Moore tweeted the report out on Thursday:


He followed it up with this gem:


Follow InformationLiberation on Twitter, Facebook and Gab.