Deranged Student Steals Man's Trump Hat: "Your F***ing Freedom of Speech is Genocide, Homeboy!"
Chris Menahan
InformationLiberation
Sep. 29, 2017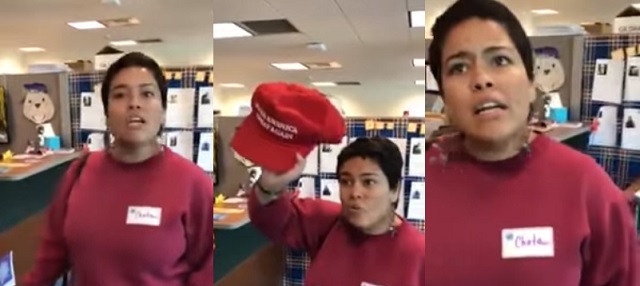 Viral video from the University of California shows deranged Latina student Edith Macias throw a fit and advocate for white genocide after being confronted for stealing another student's Trump hat.

After video of the altercation went viral, Macias issued a terroristic threat on Facebook telling her victim he needs to fear for his life and is "not safe" despite having "the cops and politicians on your side."

Campus Reform reports:

A video of the incident obtained by Campus Reform shows an enraged female student taking the hat to the school's Student Life Department as Matthew Vitale fruitlessly attempts to explain to the young woman that the hat is his property.

"Your f***ing freedom of speech is genocide, homeboy."

"So this guy thought it would be a good idea to go into a conference wearing this f***ing hat," the student who stole the hat states. "Look at the kind of sh*t he's wearing, You know what this represents? This represents genocide—genocide of a bunch of people."
Vitale then tries to explain that "you do not get to take other people's property that is legally theirs in this country," to which the unidentified thief replies, "man, f*** your laws."

"Do you have any f***ing conscience?" she goes on to ask, questioning why Vitale would dare to wear a MAGA hat on campus and telling him that his "f***ing freedom of speech is genocide, homeboy."

"I swear to God I could burn this sh*t. I swear to God I could burn this sh*t," she continues as several staffers look on.

"Are you people not going to do anything? She is stealing my property," Vitale pleads, though the altercation went on for several more minutes.
After Vitale informs Macias he's half Nicaraguan, Macias says she doesn't care because he's "white presenting."

"We need to get rid of all y'all," she says.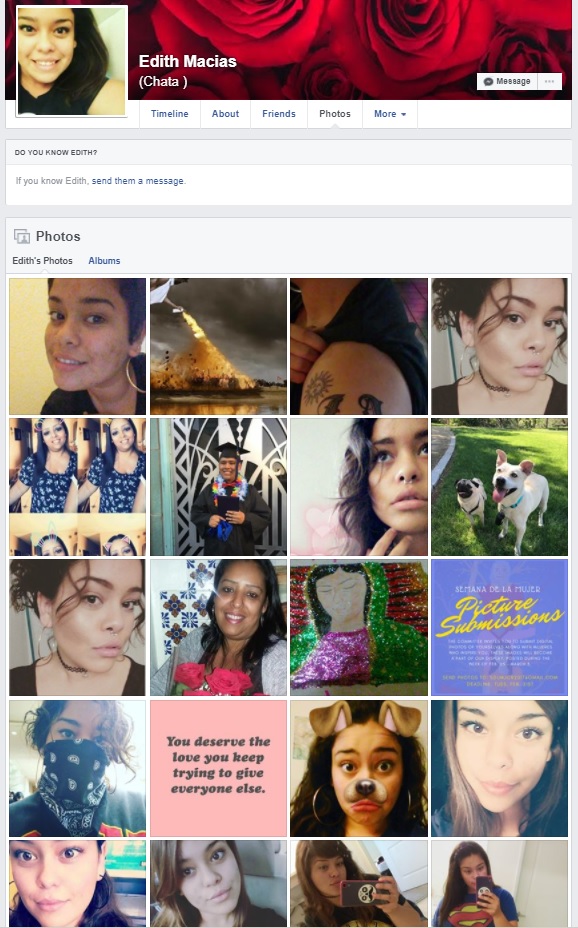 Macias posted this terroristic threat on Facebook along with video of her stealing Vitale's hat:

Wearing a Make America Great Again cap at UCR... Youre making the decision to intentionally hurt people. "Make America Great Again" coded "Continue the Genocide of POC". You feel safe cuz you got the cops and politicians on your side. Youre not safe... just saying. We need to make racists scared. Issa movement y'all. #SnatchAHat #FuckTrump #ChataFlies #Share #FTP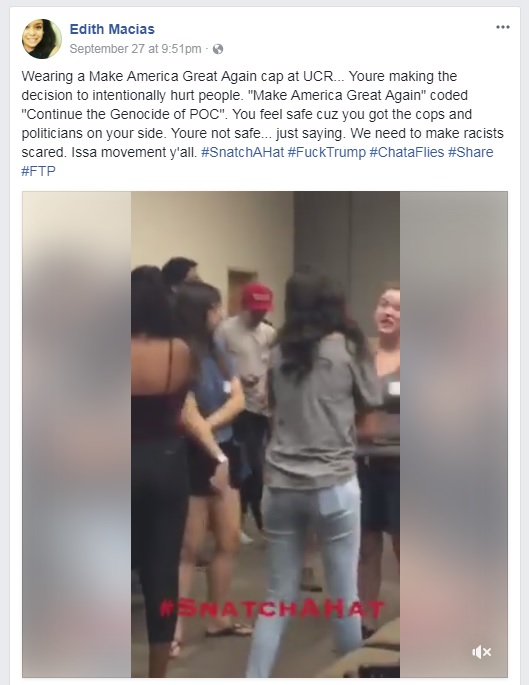 This is what unabashed racial hatred looks like. It's being taught openly in our nation's largest public universities and being funded by US taxpayers.

The current president of the University of California is Obama's former Secretary of Homeland Security Janet Napolitano.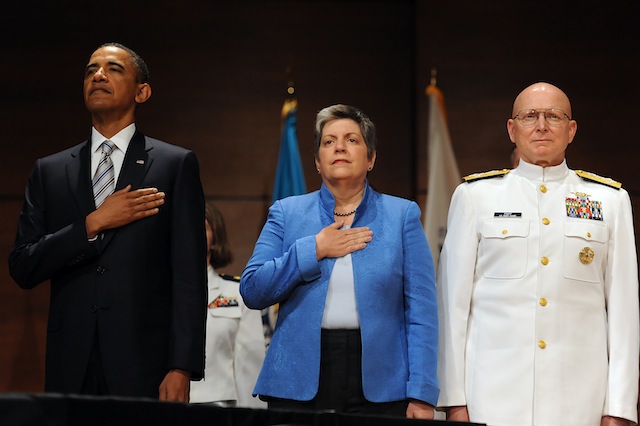 It's long past time these factories of racial hate have their federal funding cut off entirely unless the Cultural Marxist professors who teach this garbage and their enablers are fired.



Follow InformationLiberation on Twitter, Facebook and Gab.