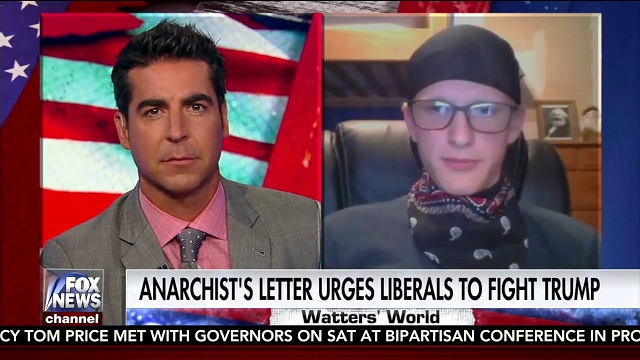 This is hilarious.

Epic troll BG Kumbi got on Jesse Watters "Watters' World" on Fox News by posing as an antifa member who wants to "bash the fash."



His trolling went totally over Watters' head.

From Fox News Insider:

Jesse Watters debated a protester from ANTIFA, short for anti-fascism, a group calling for violence against the "Trump- Pence regime."

Kevin from the Boston ANTIFA branch penned an open letter on the anarchist site ItsGoingDown.org urging liberals and progressives to violence to take down President Trump.

..."Was it in self-defense when you firebombed a limousine during the inauguration?" Watters asked.

The ANTIFA representative responded with one word, "yes."

"The owner of the limousine is a Muslim immigrant. Were you aware of that?"

"A lot of violence committed by so-called ANTIFA members is actually committed by these right-wingers who basically seek to make us look bad," Kevin told Watters.

"What about when an ANTIFA member stabbed a police horse in the neck with a knife," Watters continued. "Was the horse a racist Trump supporter?"

"Yes," the protester said.
Here's a video he made a month ago on he "joined antifa."



Check out his channel, there's tons more hilarious videos.

Follow InformationLiberation on Twitter and Facebook.