Delta, Bank Of America Drop Sponsorship Of NY Public Theater Over Trump Assassination Play
Chris Menahan
InformationLiberation
Jun. 12, 2017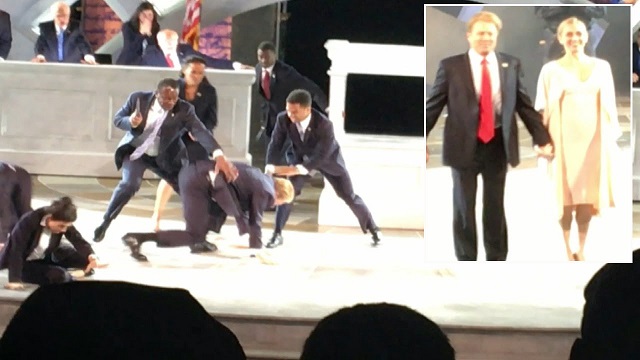 Delta Airlines and Bank of America ended their sponsorship of New York's Public Theater over a sickening play portraying the assassination of President Donald Trump.

From NY Daily News:

Delta Airlines and Bank of America pulled out of their sponsorship of New York's Public Theater on Sunday over a production of "Julius Caesar" that reimagines the main character as President Trump.

Shortly after Delta, who was a four-year sponsor, made its announcement, Bank of America yanked its support as well.

The Shakespeare in the Park play tells the story of the leader assassinated by Roman senators over the fear that he's becoming too tyrannical, but rather than the original setting, the production stages Caesar (Gregg Henry) and his wife, Calpurnia, (Tina Benko) with Donald and Melania Trump lookalikes.

Henry, who already played a Trump stand-in on "Scandal" last year, models his Caesar almost perfectly after the man in the Oval Office. He meets his end after being stabbed to death by women and minorities on stage.
That's the future the left dreams of.



Notice how they're totally silent about the ongoing genocide of whites in South Africa?
[...]Delta, which donates between $100,000 and $499,000 annually, according to Deadline, pulled its sponsorship Sunday afternoon.

"No matter what your political stance may be, the graphic staging of Julius Caesar at this summer's Free Shakespeare in the Park does not reflect Delta Air Lines' values," a company spokesman said in a statement.

"Their artistic and creative direction crossed the line on the standards of good taste. We have notified them of our decision to end our sponsorship as the official airline of The Public Theater effective immediately."

Bank of America, one of The Public Theaters's dozen corporate sponsors, offered similar reasoning.

"Bank of America supports art programs worldwide, including an 11-year partnership with The Public Theater and Shakespeare in the Park," a spokeswoman told the Daily News. "The Public Theater chose to present Julius Caesar in a way that was intended to provoke and offend. Had this intention been made known to us, we would have decided not to sponsor it."
Finally, the right is fighting back.


While we're all frustrated by how Trump's not been able to implement all of the agenda he ran on, the right is winning the culture war for the first time in decades and leftists like Kathy Griffin are now losing their jobs.

Follow InformationLiberation on Twitter and Facebook.